Entries for 21 October 2020 
      — on Kaieteur/Canje oil blocks giveaway
Oct 20, 2020  News – Kaieteur News – It has been over two weeks since Kaieteur News began chronicling a shocking exposé of the shoddy Kaieteur and Canje Oil Blocks deal that was approved by former President Donald Ramotar. This publication showed, among other things, how these prime assets were given away to industry unknowns.
Despite such shocking revelations being put into the public domain, leader of the APNU+AFC Opposition, Joseph Harmon, yesterday declared that the coalition is "awaiting more information" before any action is taken in the National Assembly to hold those responsible parties accountable.     
-------------------------
 – Badal confident of full occupancy by December next year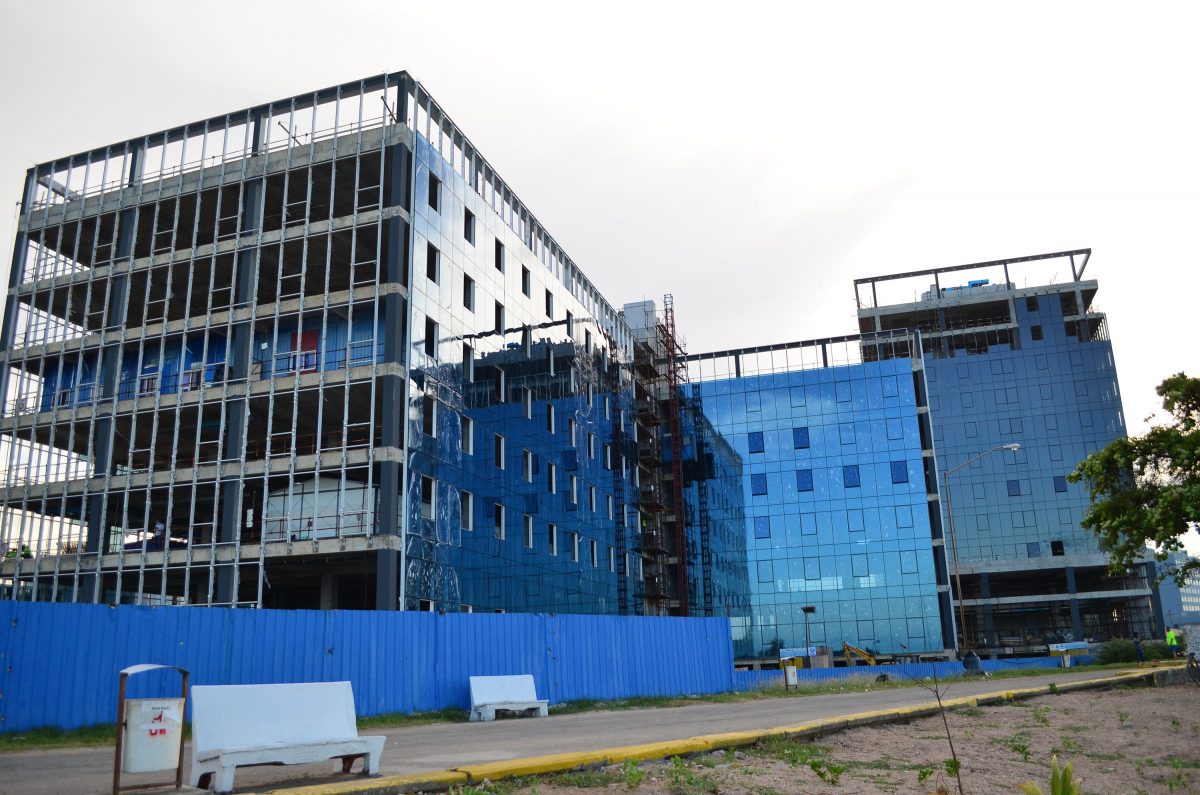 A view of the works on the two buildings
    By Marcelle Thomas  —  October 19, 2020
   The  COVID-19 pandemic has deferred the opening of the US$100M Pegasus Hotel expansion projects from December of this year to May of 2021 but hotelier  Robert Badal is confident that the entity "will hold its own" and be the inspiration needed for local investors.
"I would say it has been delayed by about six months. Now we are scheduled to complete by May 2021 and I am optimistic that we will have full occupancy by December of next year," he added.      
-------------------------
 People cannot change the truth but the truth can change people
 By Yvonne  Sam
Now that Covid 19 has forced us all to worship in a different style and aisle, it is time to
take a careful look at behaviours that run contrary to the Good Book, and leave  the church in a lurch. No need to shoot the messenger, except to remember that it is clearly stated "You shall know the truth and the truth shall make you free. John 8:32, and it shall always remain the truth regardless of lack of understanding, disbelief or ignorance.            
------------------------
–  Homes from home – The urge to escape covid-19 has given it a boost
FOR THE industry's critics, it is a scandal that exposes exactly what they have been warning about. Many people have an almost instinctive distaste for the business in selling long-term-residence rights in a country or even citizenship there for cash, usually in the form of an authorised investment. So a documentary this month on Al Jazeera, a Qatar-based television channel, seeming to uncover corruption in an "investment migration" scheme offered by Cyprus, did not not seem especially shocking.
It showed Cypriot politicians filmed in a sting operation, apparently willing to sell their country's passport to a (fictitious) Chinese businessman who, in the cover story, had been convicted to seven years in jail for money-laundering, and so should have been ineligible. 
---
Guyanese Online |   Published by Cyril Bryan--- cybryan@gmail.com
This email was sent to

|

Unsubscribe

|

Forward this email to a friend