Entries for 19 July 2020
CLICK LINK ABOVE TO VIEW THE VIDEO
Everything you know about the British Empire is a lie | George Monbiot
"It's not just the bad stuff in history that they don't want us to see, it's also the good stuff"
Comments on YouTube video:
People who are not mature, responsible and brave enough to face their own failings are also unable to face the failings of their own culture. They go straight into cognitive dissonance and rage. Expect a backlash tirade of childish, narcissistic abuse.
Both the British and the French, after having defeated the Nazis, went on to commit Nazi like atrocities in their empires.        Continue reading →
----
  Jul 19, 2020 -- Kaieteur News, The Story within the Story 
By Leonard Gildarie
On March 2- Elections Day- I arrived at work and marched upstairs to find out about Kaieteur Radio's coverage of the proceedings.
It was the mother of all elections in Guyana. The December 21 no confidence motion and the shenanigans along with the brutal campaign that followed had clearly set the tone.
An unwilling Guyana was bracing itself for a battle.
We were clearly unprepared, as the radio station had only been in operation for a few months and attempting to find its footing.
It was after 11am that I took a decision to give intermittent updates. I started calling reporters assigned on the streets and private sector officials. Then the diplomats, ministers, and other representatives followed.        Continue reading →
----
Andy Kiersz and Madison Hoff – Jul 6, 2020 – Business Insider
The novel 

coronavirus

 pandemic has caused major 

job losses

 across industries over the last few months.
Business Insider decided to look at jobs that have large employment potential over the next decade.
Using employment projection and salary data from the 

Bureau of Labor Statistics

, we found 30 high-paying jobs that are poised to enjoy healthy employment growth over the next decade.
Several tech and medical occupations made the top of the list.
The year is already halfway done, and the novel coronavirus pandemic has had a major effect on employment in nearly every industry. However, the future of work is still looking pretty bright for medical and tech jobs, based on data and projections from the US Labor Department. 
----
By Max MatzaBBC News, Washington- BBC News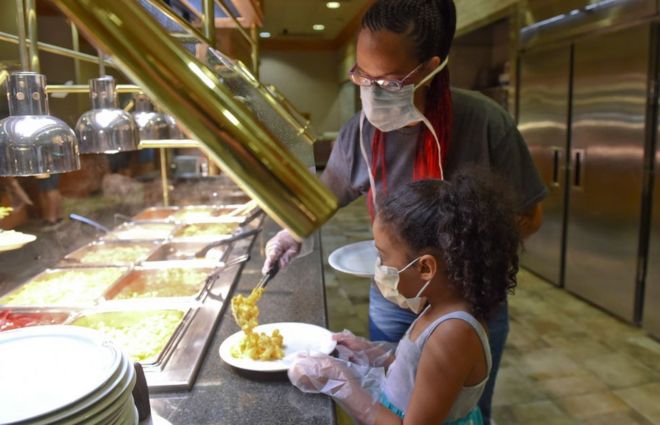 I
The Shady Maples Smorgasbord – specialising in Amish food – is requiring a mask and gloves
A dining experience beloved by generations of hungry Americans is in danger of being spoiled by the coronavirus pandemic.
Buffets – from the humblest hotel breakfasts to the grandest casino banquets – are struggling to stay afloat as new health restrictions come into place and wary diners eschew the self-serve dining tradition.
---
Guyanese Online |  Published by Cyril Bryan - cybryan@gmail.com
This email was sent to

|

Unsubscribe

|

Forward this email to a friend