Entries for 30 September 2020
President Infaan Ali
Demerara Waves: Denis Chabrol in Elections, News, Politics September 29, 2020
President Irfaan Ali on Tuesday categorically ruled out any political engagement with the opposition A Partnership for National Unity+Alliance For Change (APNU+AFC) unless he is recognised as the Head of State and Government by Opposition Leader Joseph Harmon.
"Mr. Harmon must be honest enough to correct the wrongs he has done in that narrative and go out to the public and say the PPP (People's Progressive Party) has been legitimately elected and it is the recognised government of Guyana and then we talk," he told reporters at his Vlissengen Road-based office.    
-------------------------
By Stabroek News-  September 28, 2020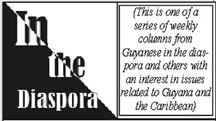 By Ryan Cecil Jobson and Matthew Quest
 The latest episode of U.S. imperialist intrigue in the Americas deserves our critical attention. On September 17, US Secretary of State Mike Pompeo landed in Suriname, beginning a diplomatic tour of South America that included additional stops in Guyana, Brazil, and Colombia.
But what is the motivation for Pompeo to visit Guyana, a country demeaned until recently as the "second poorest in the hemisphere?" Guyana, as well as Suriname, is central to the subversion of Venezuela, its neighbour to the west. In recent years, as energy multinationals withdrew from Venezuela under the threat of US economic sanctions, the Guyana-Suriname Basin emerged as a hotbed of offshore oil and gas discoveries totaling over 8 billion barrels of crude oil equivalent.      
----------------------------
Canadian corporations have played a role in neoliberal economic restructuring in the small South American country
Yves Engler / Canadian Dimension
Reflecting an extreme imbalance in power, people in Guyana are well informed about Canadian activity in their country, but our media seldom mentions the small nation on South America's North Atlantic coast. 
As such, it was a positive sign to see the CBC and the Calgary Herald report on former Alberta Premier Alison Redford's recent appointment to lead a review of the oil sector in the former British colony, which sits between Venezuela and Suriname on the northeastern tip of South America.
The industry friendly Redford will head a team of Canadian consultants to review Exxon Mobil's massive planned project at the proposed Payara oil well that has been criticized for low royalty rates. 
---------------------------------
Elon Musk
The coronavirus pandemic
Business Insider – 28 September 2020
Tesla CEO Elon Musk said in a new interview that he and his family weren't planning to get a COVID-19 vaccine when one became available.
He told the journalist Kara Swisher in an episode of the new podcast "

Sway

" that he believed he and his kids weren't at risk of contracting the coronavirus.
Musk has repeatedly downplayed the severity of the coronavirus and has repeated falsehoods about COVID-19; there is no evidence that he or his family are any less susceptible to the highly contagious virus that has killed more than 200,000 Americans of all ages.
Elon Musk says he and his family won't get a coronavirus vaccine when one becomes available.      
---
Guyanese Online |    Published by Cyril Bryan - cybryan@gmail.com
This email was sent to

|

Unsubscribe

|

Forward this email to a friend