Entries for 08 October 2020..
Joe Biden
 — By Simon Tisdall – The Guardian – 07 November 2020
Donald Trump had alienated key voter groups in each of the constituencies that helped swing the presidency for Joe Biden
Philadelphia County, Pennsylvania
This county, the state's most populous with more than 1.5 million inhabitants, is coterminous with the city of Philadelphia. Residents cast about 750,000 votes in the election, favouring Biden over Trump by 81%-18%. It was 30,000 pro-Biden votes from the county, declared at about 9am on Friday, that overturned Trump's state-wide lead, which on Tuesday night had looked impregnable.          
----------------------------------------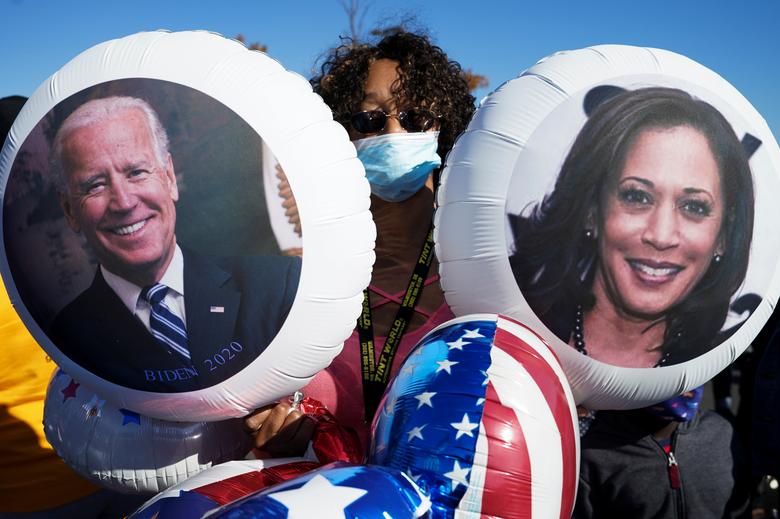 Photo: A supporter of Joe Biden holds balloons with the faces of Joe Biden and Kamala Harris  By Stabroek News – November 7, 2020
WASHINGTON,  (Reuters) – Democrat Joe Biden captured the U.S. presidency today as voters narrowly rebuffed Republican incumbent Donald Trump's tumultuous leadership and embraced Biden's promise to fight the coronavirus pandemic and fix the economy in a divided nation.
Winning the battleground state of Pennsylvania's 20 Electoral College votes gave the former vice president more than the 270 he needed to triumph, prompting all major TV networks to declare him victor came after four days of nail-biting suspense following Tuesday's election.      
------------------------------------------
CLICK LINK ABOVE TO VIEW THE VIDEO
USA: Why American public transit is so bad | 2020 Election
Most Americans have no choice but to drive. How do we change that?
In the middle of the 20th century, the US government made a decision that would transform American cities: It built a huge system of interstate highways, many of which went right through the downtowns of its biggest cities.        
-------------------------------------------
      HANSIB: Celebrating Fifty Years of Publishing 1970 – 2020
At its inception in 1970, Hansib Publications was the dream of Arif Ali, a Guyanese immigrant, who had no formal experience in publishing. He had settled in England and recognised among his fellow travellers and contemporaries a grandiloquence and epic sensibility which the mainstream media either deliberately ignored or simply failed to recognise at the time.
The titles are mainly by Guyanese and West Indian writers.  They include titles under the following headings:       
---
Guyanese Online |   Published by Cyril Bryan - cybryan@gmail.com
This email was sent to

|

Unsubscribe

|

Forward this email to a friend