FOR OVER TWENTY YEARS
Our Mission: To inspire stewardship of Pennsylvania's state parks and forests
Greenwood Furnace State Park
Photo by Steve Rubano

It's Friday the 13th but I'm not scared. I'm not worried about ladders and I am definitely NOT afraid of black cats. Heck, with all the weird glitches and really ugly spam we have had in the past month or so technology is what really frightens me. So let's just get outside and play, right?
Greenwood Furnace has the blues in this gorgeous photo by Steve Rubano, who always seems to have the right touch when it comes to shots at his favorite park. Give a click to see the original.
Who can resist buried treasure? Not us!
In the fall of 2022, campground host Joe (Marci's husband) discovered a time capsule at Fowlers Hollow State Park. In the bottle was the camp tag for Labor Day weekend 1973 and a message, written in five different hands, on a paper plate.
Site #11. Cost of the site? $6.00!

Perhaps you know the Moore family of York? Despite forgetting some critical items, they managed to have an enjoyable weekend!

Here's the message as transcribed by Marci:
Person 1.
Weather very hot, 3 90 and above degree temperatures.
First and only camping trip of the year. Joel stayed home. This trip we forgot more than any other time:
Toothbrushes (ugh)
Razor
Hammer
Soap
Saw and shovel
(Take note all before departure!)
Donna forecast a long, cold and snowy winter ahead.
Person 2
Had the same luck with neighbors—noisy and late. We will have to do something about next year to get a better campsite. Had good fishing. Leonard
Person 3 (child's handwriting)
I saw a lot of dear at night with a light. Steve
Person 4 (child's handwriting)
Went swimming at Col Denning. It was all weedy at the bottom. Got cut. Saw some deer. Christa
Person 5 (child's handwriting)
I had plenty of fun just being with the Moore family and hope that I am lucky enough to be along next year. Steph
Would love to know if the Moore family is out there somewhere and hear their reflections on a summer excursion almost 50 years ago!

In the "too rude for words" department, someone stole Smokey Bear from the fire danger sign (like this one) at the entrance to Colonel Denning State Park on the night of Friday, December 16 or early morning hours of Saturday, December 17. A reward is being offered for information leading to the arrest of the individuals responsible for the theft. If you have any information, please call Ranger Shaffer at 717-536-3191 or 717-543-1550. Or anonymously to Crime Stoppers at (855) 628-8477.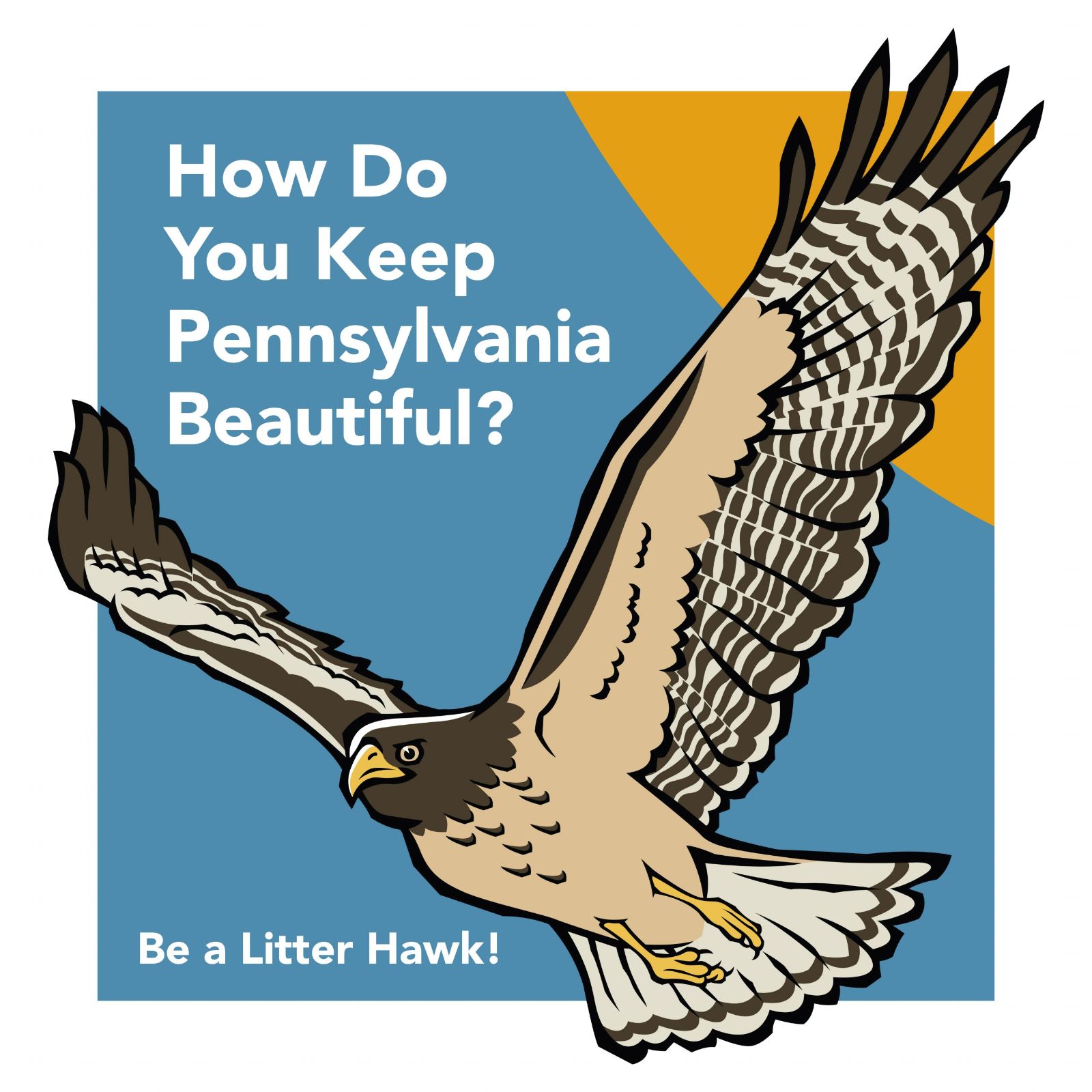 Keep Pennsylvania Beautiful is again this year offering its Litter Hawk Youth Award Program, asking students in Kindergarten through 6th Grade to share their hope, optimism, and concerns about litter and inspire others to care for their communities through art, words, or video. In response to Pennsylvania's new anti-littering education campaign, PA Fights Dirty: Every Litter Bit Matters, the theme is: Show Us How Every Litter Bit Matters to You. Projects include:
Grades Kindergarten through 4 – Poster
Grades 5 and 6 – Essay or video
Two entries will be selected as winners in each grade level. First place will receive a $50 gift card. First runner-up will receive $25 gift card. All participants receive certificates. The deadline to participate is January 31. Winners will be announced in April in time for this year's Earth Day celebrations.
The world of podcasts has a new entry, Hemlocks to Hellbenders, hosted by Christian Alexandersen, the writer who has been entertaining us with blog posts on our News page based on his quest to run a mile in each of the (then) 121 parks in '21.
You've read his stories, now you can hear them!
Forbes State Forest
Photographer Alex Momich captioned it "I come from the land of ice and snow." Next line?

Ricketts Glen State Park
No question the Falls Trail at RGSP is the big draw but sometimes it is really wonderful to see the quieter side of the park, as here from Tom Myers on the Cherry Run/Mountain Springs loop.
M.K. Goddard State Park
Bridget and John Casteel did a Second Day Hike at Goddard - apparently one of their favorite places. And why not!
Some ways play is beneficial (aside from holding off triskaidekaphobia)?
Relieve stress.
Improve brain function.
Stimulate the mind and boost creativity.
Improve relationships and your connection to others.
Keep you feeling young and energetic.
Helps develop and improve social skills.
Teaches cooperation with others.
Can help heal emotional wounds.
I'd venture a guess to say there are many more - for me, "play" takes the form of riding my bike and that offers nothing less than an unquenchable sense of freedom and joy. It's hard to be in a bad mood when I'm riding my bike - unless, of course, there's a headwind!
This week, one of our photos features a park that was once being considered as a national park. But we are fortunate to have kept it in our system. Which is it?
Enter each week to increase your chances of a fabulous prize at the end of the month when I'll draw one entry from all correct answers received during the month.

Jennings Environmental Education Center, Foltz School House - The Benefits of Play
While looking for photos on the Book of Faces, I came across this post and photo from Jennings Environmental Education Center from last October celebrating the renovation (by volunteer friends Moraine McConnells Mill Jennings Commission, fondly known as 3MJC) of the one-room Foltz School House. Pure joy all 'round!
Join in the MLK Day National Day of Service - January 16th
Quote by Martin Luther King, Jr.
February 4, 1968
Sermon, "The Drum Major Instinct" delivered at Ebenezer Baptist Church, Atlanta
Pennsylvania Parks & Forests Foundation (PPFF) is a 501(c)(3) nonprofit organization - contributions to which are tax deductible to the fullest extent permitted by law. The official registration and financial information of PPFF may be obtained from the Pennsylvania Department of State by calling, toll-free within Pennsylvania, to 800.732.0999. Registration does not imply endorsement.
Build the Future, Leave a Legacy
PA Parks & Forests Foundation
704 Lisburn Road, Suite 102
Camp Hill PA 17011

You received this email because you signed up on our website or at an event where PPFF was host or presenter.
Thank you!
Unsubscribe