Entries for 20 July 2020
Martin Pengelly in New York  Sun 19 Jul 2020 18.28   The Guardian UK
Photo: President Trump goes golfing on Sunday July 19, 2020
JOE BIDEN LEADS IN POLLS           
Joe Biden leads Donald Trump by 15% among registered voters nationally and holds a 20-point lead when it comes to who Americans trust to handle the coronavirus pandemic, according to a major poll out on Sunday.
In the same ABC News/Washington Post poll, Biden led by two points in March and 10 points in May. Now, among respondents who said they will certainly vote in November, Biden leads by 11%.
Fox News also released a poll on Sunday. It put Biden ahead on coronavirus, race relations and the economy and eight points up nationally.      Continue reading →
----
By Marc Higginson  — BBC Sport – From the section  Cricket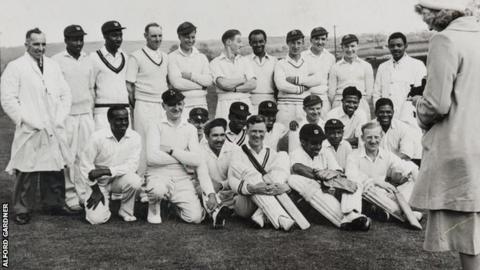 The Caribbean Cricket Club team after a match in Yorkshire
When Alford Gardner stepped off the Empire Windrush – a ship bringing about 500 migrants to the UK from the Caribbean – he, like his fellow passengers, was about to embark on a storied journey: one that would see him build a life for himself in a land more than 4,000 miles from home.
Jamaica, where Alford was from, and Leeds, where Alford was to settle, couldn't have been more different in 1948.  Yet there was one thing which was central to the life of people in both places – cricket.
Within months of arriving in the UK, the country's first Caribbean Cricket Club had been formed.           Continue reading →
----
 PHOTO: State troopers break up a civil rights voting march in Selma, Alabama, 1965. John Lewis is in the foreground. Photograph: AP
The civil rights leader John Lewis, known at the 'conscience of America', has died.
Born the son of sharecroppers in Alabama on 21 February 1940, he attended segregated public schools and, inspired by the words of Martin Luther King Jr, became active in the civil rights movement..From university onwards he organised sit-ins at segregated lunch counters, took part in the Freedom Rides, was chair of the Student Non-Violent Coordinating Committee and was a key speaker at the historic March on Washington in 1963. He led one of the pivotal moments in the civil rights movement, a march over the Edmund Pettus Bridge in Selma, Alabama that was brutally attacked by state troopers...
READ MORE: https://www.theguardian.com/us-news/gallery/2020/jul/18/civil-rights-activist-and-politician-john-lewis-a-life-in-pictures
----
BLOG: Three Worlds One Vision  – By Rosaliene Bacchus
My Poetry Corner July 2020 features sonnet 13 from the poetry collection American Sonnets for My Past and Future Assassin (2018) by African American poet Terrance Hayes. (Note: The following excerpts of poems are all sourced from this collection.) Born in 1971 in Columbia, South Carolina, Hayes is a national award-winning poet and university professor.
After receiving his MFA from the University of Pittsburgh in 1997, he taught in Japan, Ohio, and Louisiana before returning to the University of Pittsburgh where he worked for several years. In Pittsburgh, he gained local fame as co-director of the Center for African American Poetry and Poetics.         Continue reading →
---
Guyanese Online |  Published by Cyril Bryan - cybryan@gmail.com
This email was sent to

|

Unsubscribe

|

Forward this email to a friend