Dear Sisters,
There's a lot of talk floating around on the Internet right now about Covid-19, and friends, I think we've got enough of it to last the rest of the year. I don't have anything else to add to that conversation that would benefit any of you, so I'm going to tell you a story about my high school job. This is a true story and has some not-so-savory parts, so if you're easily offended, I warned you! 😅
My first job was at my friend's mom's tanning salon. I was opposed to tanning because—you know—skin cancer, but she said I had to be tan to work there. So I tanned. But just two short weeks into my new job and skin tone, I left and became pale again for the sake of my future. I was going to be a veterinarian, and someone had offered me a job at a vet clinic.
I was a quirky teenager who didn't have the benefit of also being quiet. There was no mystery about me—all my cards were (and still are) always on the table because I couldn't ever keep my mouth closed. My genuineness had a way of pushing me to the outer orbit of just about every clique in my high school—respected, but not accepted. On homecoming court, but never invited to parties.
At the vet clinic, things were different. Everyone was at least 10 years older than me, and they were all a bit of a mess. People were constantly getting divorced, having money issues or getting pregnant accidentally. Everyone cussed like sailors and gossiped endlessly. One lady who worked there for years and years had an affair, broke into the clinic after hours and stole a bunch of money. She was never heard from again. Strangely, it seemed like once you started working there, you just never could manage to leave, which meant everyone had known each other forever and boundaries weren't really a thing. The drama was good enough for a TV show.
Inserting a 16-year-old youth group girl into this environment could've gone a few ways, but it ended up being just the right kind of crazy for me. Turns out, every one of those people was multidimensional, and I liked how they didn't pretend. We played pranks on each other. We picked on each other. We told stories. We talked about raw, real issues while we sat on the exam tables and cleaned our ears out with those good, long Q-tips we used for various procedures. I was on the inside of a group for the first time, and no one was jockeying for position or trying to impress anyone else. We were like a big, messy family.
It was my favorite place in the world.
+++
There was plenty of intrigue among the staff, but our clients were like recurring guest stars on our little sitcom.
Because of the location of this clinic, we drew a diverse crowd. Rich old ladies who screamed like a family member was dying when their Pomeranians crossed the Rainbow Bridge sat in the waiting room next to men who were probably breeding pit bulls to fight them in the street. We traveled to farmers, too, vaccinating herds of livestock and pulling calves out of mothers who struggled to give birth.
One man will forever live on in my memory. He was a white man in his 50s—a mechanic. His hands were always greasy, and he wore his work shirt open halfway, revealing a dingy wife beater style undershirt and a forest of curly black chest hair. His smile was wanting for a few teeth, and his hair was thinning.
One evening as the staff was locking up the building, this man screeched into the parking lot and jumped out of his beat-up old Ford Ranger in a frenzy. His beloved (female) pit bull had gotten into his bottle of Viagra. He thought she'd ingested quite a few. The veterinarian decided the best course of action was to get the dog to vomit. We placed a tiny pill called apomorphine in the dog's eye, causing her to immediately empty the contents of her stomach. She was fine.
At least a year later, this same man brought the same dog in for an appointment. He was trying to breed her with a large, black pit bull, and things weren't going so well. Our veterinarians periodically facilitated artificial insemination for breeding purposes, and this was my first experience assisting with one. I was tasked with helping hold the female dog still while the male dog sniffed her lady parts and the veterinarian attempted to collect a… sample. There were several other people in the room assisting as well as the owner of the male dog, a large black man who didn't say much.
There was an awkward silence in the room, appropriate given the circumstances. Nervous laughter, a few jokes, but mostly silence. Suddenly, Viagra Man crouched down and looked his dog square in the eyes.
"Come on girl, get on those sparkly panties and get on that pole."
He continued.
"Twirl around girl, show 'em what ya got!"
I made Jim Halpert style eye contact with my coworkers (although this was before The Office was released… I feel old), all of us holding in laughter and trying to remain as professional as we knew how to be while he continued his coaching.
The procedure was unsuccessful. The male dog was not the strip club type, apparently.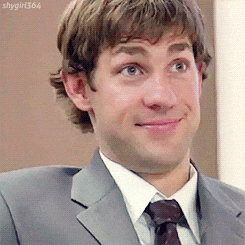 +++
I remember the day I walked into that clinic the summer after my freshman year of college and told everyone I no longer wanted to become a veterinarian. I wanted to write. Of course, no one really cared as much as I thought they would, and I still worked there every time I was home until I graduated and got married.
I wondered that summer if all the hours I had spent learning in that place, all the poop I'd scooped, all the floors I'd mopped, toilets I'd scrubbed and experiences with people like Viagra Man (there were so many other stories!) were wasted because my career trajectory had shifted. I wondered why I'd worked so hard to learn about medications, how to assist during surgery, draw blood, run lab tests and educate clients if I was just going to become a journalist.
But what would I have become without that experience? What if I had remained a tanning bed attendant throughout high school, chatting about nothing for 30 seconds here and there with other tanned white girls?
Along with learning how to work long, hard, dirty, physical hours, that clinic yanked me out of my black-and-white church girl bubble and forced me to understand that the world is simultaneously messy and beautiful, and that's OK. It taught me the benefits of laughing and shrugging instead of clutching my pearls or looking away. It taught me to go with the flow and enjoy the company of the person in front of me, regardless of who they were. It exposed me to a realistic view of humanity.
It's amazing how this one little high school job laid the foundation for me to travel internationally, work with people struggling with addiction and homelessness, become a foster parent and ultimately, to see everyone, including myself, as a lovable kaleidoscope of complexity. We've all got unsavory parts and heroic parts. No one is simply a danger to avoid or a project to fix.
I think that early experience working with such an interesting cross section of humanity made me a better friend, a better mother and a better human being.
What early life experiences shaped your worldview? Have you ever been part of a motley work crew that felt like family? This opinion piece about missing work during the pandemic from my favorite NPR anchor, Scott Simon, illustrates the special nature of a work family so beautifully.

Love, Jill