Entries for 23 October 2020
US election 2020 – Report from BBC News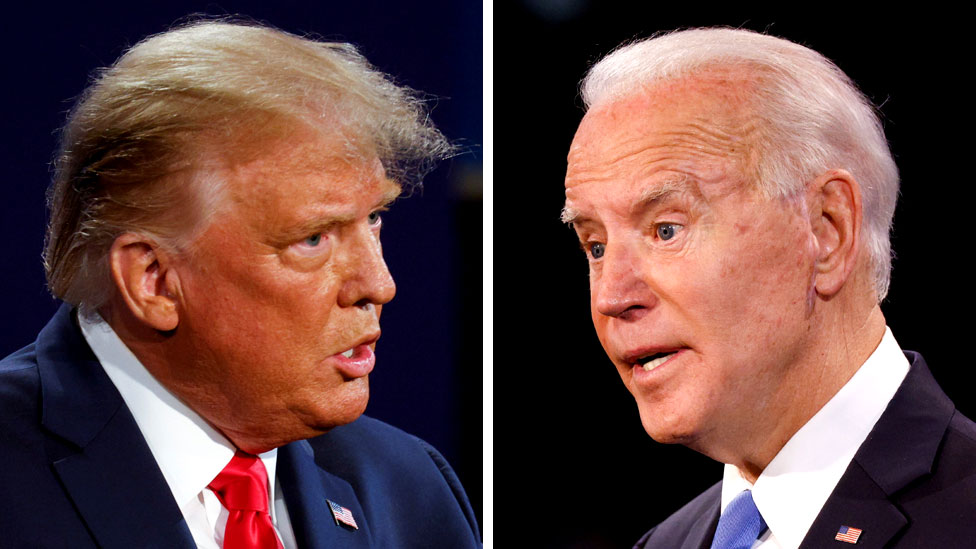 Trump vs Biden Debate
The mute button, or at least the threat of it, seemed to work. In the second presidential debate, Donald Trump and Joe Biden candidates were more restrained.
The candidates allowed each other to speak. They used respectful tones. Even when they went on the attack, they did so in a calm, deliberate manner.
After a pugnacious first debate, during which Donald Trump's constant interruptions may have cost him support in subsequent opinion polls, the president has very visibly dialed down the volume – and it made him a much more effective debater.
---------------------------
GUYANA SPEAKS
Berbice Rebellion, Buxton Spice & Reparations
Via Zoom
Sunday, 25th October 2020
(2pm – 4pm GMT / 10am – 11am GYT)
This Month's Speakers
Nigel Westmaas, Oonya Kempadoo & Eric Phillips
MORE INFO: Guyana Speaks October 25 – Rebellion, Spice, Reparations
Zoom Joining details:
Enter the following URL into your computer browser:
https://zoom.us/j/5786095205
This should take you directly to the meeting.
If you are put into the waiting room then the Host will let you into the meeting.
--------------------------------
WHAT'S INSIDE – Our Special Edition During The Pandemic
President's Message
Packing & Shipping Update
Berbice National Psychiatric Hospital – Congratulations 75th Year Of Service
Mercy Resident Care
Guyana First Skull Replacement Surgery
Ambulance Service
GCC Helps Distressed Person            Continue reading →
----------------------------------------------
Byram W. Bridle; Samira Mubareka; Shayan Sharif | The Conversation
ATHLETES UNDERSTAND THAT THERE ARE TWO VERY DIFFERENT APPROACHES THAT CAN BE TAKEN WHEN TRAINING THEIR BODIES. For example, lifting heavy weights is a great way to achieve maximum strength. In contrast, low-load high-repetition training is ideal for developing the stamina required for endurance sports.
REMARKABLY, OUR IMMUNE SYSTEM CAN BE TRAINED IN A SOMEWHAT SIMILAR FASHION. It must choose between two different responses to dangerous pathogens, both of which lead to white blood cells called T cells and antibodies targeting the infecting microbe. However, the types of these T cells and antibodies is different depending on whether the pathogen lives outside of our cells, as many bacteria do, or inside our cells, as viruses do.                Continue reading →
---
Guyanese Online | Published by Cyril Bryan - cybryan@gmail.com
This email was sent to

|

Unsubscribe

|

Forward this email to a friend