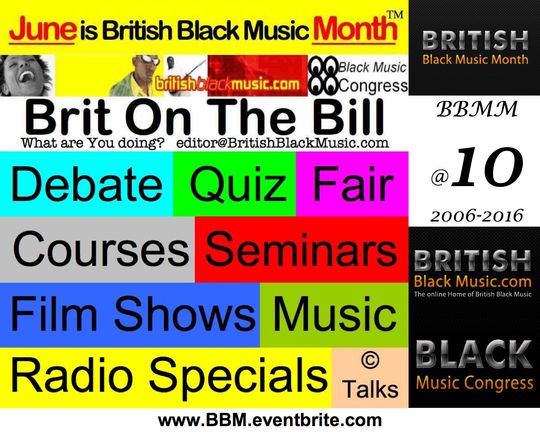 This mailout is sent by BritishBlackMusic.com/Black Music Congress www.BBM.eventbrite.com(BBM/BMC), which covers music industry and community activities associated with BBM/BMC, Akoben Awards, BTWSC, TAOBQ (The African Or Black Question), African Histories Revisited (AHR) and RE:IMI (Race Equality: In Music Industry). Is this of interest to your contacts? Then hit the link at the bottom to FORWARD it.You can also use the link below to UNSUBSCRIBE.
July 16 2018
Greetings 
This BBM Alert covers mainly International Reggae Day (IRD) 2018 reports, photos, links, and stakeholder meeting, plus other reggae related runnings and the odd non-reggae activity.
If this is not of interest, you can save time by deleting this Alert now.
Still reading? OK, we take this opportunity to thank our contacts at UCL Institute Of Education and Goldsmiths, University Of London for accommodating the IRD and Xtra Session events respectively; Colin CeeBee Brown of Reggae Fraternity and M3 Crew, without whom...; Melissa Sinclair of Gargamel/G Mag fame and Kenny Passley, who stepped in at the last mo to make sure photographs of women in reggae were well represented, and Des Chisholm of Plus Music for IRD photos.
Then there's Brent Council leader Muhammed Butt and Brent Central MP Dawn Butler who were supported in planting the Reggae Tree in Harlesden by councillors Lloyd McLeish and Orleen Hylton, and a few Brent Council staff and residents; plus Claire Clottey and Beat 103.6FM staff for the post-IRD 'Time To Talk' reggae discussion.
Thanks to all those who organised official IRD events, and IRD JA, especially for the UK-focused IRD Trailblazer awards. Of course, there are several others, from presenters, interviewees (especially Neil Mad Professor Fraser, who hot-tailed it straight from the airport), awardees, stall holders. etc - too many to mention, but we know who you are and thank you!
If you're a reggae stakeholder, then take this as your invitation to join us next week for an IRD Reggae Stakeholder Meeting - (hopefully some time during July 23-25 -  watch this space for date and venue confirmation). It would be good to see you there for debriefing, way forward, and networking, as begin plans for IRD 2019.
Oh, ever wondered what 2018 IRD Awardee Millie looks like now? We've got some exclusive photos of her, including holding her latest award - scroll to the bottom!
Don't forget today is the deadline for the early bird deals for the Copyright seminar cum mini-sounds on Friday July 20 at City Uni, and the music industry master-class on July 28 at Harrow Mencap. And we can't talk about (roots) reggae without connection to Garvey. So don't forget to beat the Aug. 12 early bird deadline for the Marcus Garvey Annual Pan-Africanism Presentation that takes place on Garvey's birth day Aug. 17 at Willesden Green Library Centre - go book now!
And just when you thought it had quietened down on the Windrush front - here's a reminder: I'll be providing Windrush historic context at the Home Office Immigration Policies Symposium in Brixton on Thursday July 19, on a panel that includes community activist Prof Gus John and immigration lawyer Jacqueline McKenzie. I'll also be presenting 'African History Reflection Day: From Empire Windrush, Bristol Bus Boycott To Stephen Lawrence' on Friday July 31 in Harrow. Booking details below.
Not sure I can say any more, than to give you this heads up for now: the Jamaican government is looking at compiling a list of all UK Jamaicans who've been involved in reggae music, be it artists, producers, record label owners, etc. It will also be looking to honour some of the key contributors. Watch this space for full details. In the meantime, you can start thinking about who should be on that list.
For those who wanted to hear a bit more from 2018 IRD Awardee Michael Mikey Campbell, check the short video link below, and we're planning an event in Brent before the summer school holidays end, where we can hear from the likes Mikey. Met Shaun Cain at the Chalkhill community fair last Saturday. He was selling his reggae books. We'll have him back in Brent for a reggae quiz. In the meantime, you can read the review of his 'Reggae Larger Than Life' book below.
Because electric cables need to be re-positioned, the Reggae Tree is not in a permanent position. Once we have a date for the re-positioning, we'll set up a date for the unveiling of the Reggae Tree plaque. This time it will be a reggae community-focused event. Watch this space for more details. And if you have a connection to the Harlesden, Brent reggae scene, we'd love you to be there, whether or not you receive a formal invitation!
Finally, as we were putting this Alert together, we received the sad news that IRD JA head honcho Andrea Davis lost both parents on the same day over the weekend in different countries. Our thoughts and prayers are with her and the family at this difficult time. 
Here's to a blessed new week!
Kwaku
BBM (BritishBlackMusic.com/Black Music Congress)
bbmbmc@gmail.com
www.BBM.eventbrite.com
www.AfricanHistoryPlus.eventbrite.com
IRD UK join the global reggae family in sending our condolences to IRD founder Andrea Davis and family for the loss over the weekend of her father and mother. We also open this mailer by sharing Bob Marley's live rendition of 'Fly Away Hone/Lion Of Judah', which is obviously providing some comfort to Andrea at this difficult period. Click here to listen.
Reggae @ 50 continues with a couple of sessions for improving industry knowledge:
Talking Copyright: On A Reggae Tip.Seminar + mini sound system. Friday July 20, 6-9pm @ City University. £5 early bird deal ends July 16. Click here.
BBMM2018 Making Sense Of How The Music Industry Works. Course. Saturday July 28, 1-5pm @ Harrow Mencap. £30 early bird deal ends July 16. Click here.
The Marcus Garvey Annual Pan-Africanism Presentation 2018. Talk + screening. Friday Aug. 17, 6-8.30pm @ Willesden Green Library. £5 early bird deal ends Aug. 12. Click here.
Click here to view Des Chisholm's IRD Conference photos posted on Facebook.
photo: L (Elli) and R (Ben), grand children of the late Chris Peers, a co-producer of Millie's 'My Boy Lollipop' single, and early Island Records executive who was highlighted for his role in the development of reggae and island Records. 
You can view the IRD LDN 2018 Conference live stream at www.irduk.co.uk/live-stream or via YouTube.
Includes IRD 2018 Awardees Michael Mikey Campbell, Cyrlene Braithwaithe and Trojan Records; Audrey Scott, True Identity, and Nzinga Sounds.
Billboard marked IRD by publishing Patricia Meschino's excellent Reggae @ 50 retrospective piece. Click here to read.
I did submit a comment applauding Billboard on its IRD coverage, whilst lamenting the fact that no key British music publication had done similar. Whilst the moderator choose not to make my comments live, it does not detract from the fact that without Britain there probably may not be much to mark 50 years on. Which is why it's somewhat sad that no publication here is trumpeting Britain's pivotal role in the globalisation of reggae! (see article below)
Here's Consciousleewritesblog's IRD UK 2018 report:
International Reggae Day is an annual event held on 1st July, founded in Kingston, Jamaica and is dedicated to celebrating a style of music that entered into the world in a sleepy little country in the Caribbean and exploded to touch every corner of the world with its style. Originally born out of ska and rocksteady style of music in the 1960s, it quickly gained distinction with its unpolished sound and dependence on rhythm (https://www.daysoftheyear.com/days/international-reggae-day/).
This year, I attended International Reggae Day UK, organised by BritishBlackMusic.com/ Black Music Congress in association with Reggae Fraternity UK.  The day began with a tree planting ceremony by Dawn Butler, MP for Brent Central, with the main part of the day taking place at UCL Institute of Education near Russell Square.
IRD UK occupied two rooms. In one room, there were stands of vendors who were networking and advertising their wares/organisations.  Reggae Fraternity UK, Britain's Got Reggae, Shining Stars, Stamina Li and Aretha Marie-jah, had the opportunity to network with each other as well as members of the public. A few well known faces passed through too: Kennedy 'Prezedent' Mensah – Back 2 The Future, True Identity – reggae harmonic group,  Nzinga Sound, Menelik Shabazz, Chrystal Rose and Mad Professor, to name but a few.
A great day with some notable attendees, all under one roof!
Click here to read full blog.
'My Boy Lollipop, From JA To UK, A Musical History' article by Kwaku is culled from the IRD 2018 Magazine.
Come on guys, the submissions we received were not varied enough to compile a British Reggae Top 20, so here's another appeal - submit your favourite British reggae track(s), up to maximum of 3 now: bbmbmc@gmail.com. Please state title and artist. It can be any shade of reggae i.e. ska, rock-steady, lovers rock, etc, and from any vintage. Please get on with it now, because we hope to announce the result as a Top 20 at a soon to be announced reggae event in the north-west London borough of Brent. 
Reggae's importance as part of Brent Council's 2010 London borough of culture plans was evidenced by having moi Kwaku BBM, reggae veteran Delroy Washington and Brent Youth Ambassador Bryce Morodore talking about reggae on July 2, the day after IRD and the planting of the Reggae Tree in Harlesden, where Claire Clottey hosted us on her monthly Brent Council sponsored The Beat London 103.6FM 'Time To Talk' programme. Click here to listen to us discussing reggae, with some focus on Harlesden and Brent's rich reggae history.
BTW - since Claire played Jah Cure's 'All Of Me' on her programme, I've had that track playing on repeat for several days! I'm feeling it as one of the coolest lovers rock tunes ever!! I love John Legend's original,but methinks Cure's version is the lick!!!
Click here to listen to IRD 2018 Awardee DJ Cameo (aka Melissa Sinclair), who dedicated her June 29 Ride The Riddim show to a JA-UK pre-International Reggae Day London special. Catch her on Fridays 4-6pm on BlessRadio.org.
Click here to listen to IRD 2018 Awardee DJ Cameo (aka Melissa Sinclair), who dedicated her June 29 Ride The Riddim show to a JA-UK pre-International Reggae Day London special. Catch her on Fridays 4-6pm on BlessRadio.org.
Steve James dedicated his June 22 and 29 Real Rock shows to International Reggae Day by exploring the JA/UK musical relationship. Click here for Part 1 and here for Part 2. Check out his show on Fridays, 9-11 (JA time) on NewsTalk93.com.
DJ CeeBee dedicated his June 24 UK Reggae Expose show to British Black Music Month 2018 whilst giving a nod to International Reggae Day with a show dedicated to purely British reggae. Click here to listen to this special, and catch him on ChaaawaaaRadio on Sundays 8-11pm.
The Reggae Tree planting ceremony took place on Craven Park Road, Harleden right in front of the Hawkeye record shop. A plaque unveiling ceremony featuring the reggae community will be announced soon.
Above photo includes Brent Council leader Muhammed Butt, councillors Orleen Hylton and Lloyd McLeish, Brent Central MP Dawn Butler, council staff, and local supporters.
Photos below by Des Chisholm.
Last Sunday July 1 was International Reggae Day (IRD). IRD was marked with a club nights in east and south London, in Brent it was preceded by a family day event at BBMC in Willesden.

However, across in Harlesden in the morning Brent Council leader Muhammed Butt and Brent Central MP Dawn Butler planted the Reggae Tree on Craven Park Road in front of the Hawkeye record shop. They were supported by Councillors Orleen Hylton, Lloyd Mcleish, and Brent resident and IRD UK co-ordinator Kwaku.

"We hope the Reggae Tree will become part of the borough's cultural icons by the time we come to celebrate our London borough of culture status in 2020," said Kwaku.
----------------------------------------------------------------------------
Last Sunday July 1 was International Reggae Day (IRD). Whilst there were club nights marking IRD in east, south and north-west, the main event was a conference at UCL Institute Of Education.

There were various videos and presentations covering the history of reggae, UK's contribution to the reggae business and genre, and copyright. A  number of IRD Award presentations were made.

Awardees included Roy Forbes-Allen, whose Hawkeye record shop in Harlesden, north-west London is still operating 41 years on, and Millie Small, whose 'My Boy Lollipop' single reached no.2 in the UK and US in 1964. Her award was received by Tony Washington, who wrote the flipside 'Something's Gotta Be Done' and was a recipient of his own IRD Award for contributions to reggae as an artist and songwriter since the 1960s.

The late Chris Peers, one of the three co-producers of Milliie's hit record and an early Island Records partner was honoured in the presence of his grand children Ben and Elli Peers.

IRD has been going for over 20 years in Jamaica, and 2018 marks the second year it has been officially marked in Britain. It forms part of the annual British Black Music Month initiative, which takes place June/July. This year also marks the 50th anniversary of the birth of the reggae genre, and two reggae labels who roots go back to 1968, Trojan and Jet Star, were also recipients of IRD Awards for their contribution towards promoting the genre in Britain.
The IRD UK's 2018 theme of Women In Reggae was enhanced by a two women-only panels covering artists, promoters and sound system operators. The 2018 IRD Award recipients included radio presenter and former magazine publisher Melissa 'DJ Cameo' Sinclair and talent promoter Cyrlene Braithwiathe.
The Xtra event at Goldsmiths, University Of London on July 3 included a women in reggae talk and projection of photographs by Kenny Passley, a sound system session by M3 Crew, and a music industry seminar led by BBM/BMC co-ordinator Kwaku.
For more details, including an archived video stream: www.IRDUK.co.uk. 
Kenny Passley's session went down very well. And extended as it was, the audience wanted more. So look out for a Reggae @ 50 session featuring Kenny's photos and talk!
IRD JA in association with BritishBlackMusic.com/Black Music Congress honours 9 noteworthy trailblazers who have contributed to the development of reggae in the UK.  The awards will be presented during the IRD Conference being held at the UCL Institute of Education in London on JulyOne.
IRD 2018 Honourees: 
Legacy Award - Windrush Generation for courage and their legacy which made a way for future generations in the UK, and was a catalyst for the growth and success of Jamaican music and culture in the UK and beyond.  Award to be received by the Black Cultural Archives  
Trailblazer Award - Trojan Records on the milestone of its 50th anniversary In recognition of the vital role it has played in promoting the best of Jamaican music in the UK and worldwide. 
Trailblazer Award - Jet Star Records In recognition of the vital role it has played as an independent label in promoting the best of Jamaican music in the UK. 
Trailblazer Award - Millie Small in recognition of her groundbreaking success with 'My Boy Lollipop' which opened the door for the international success of Jamaican music and subsequently launched Island Records as an major independent record label. 
Trailblazer Award - Tony Washington for his contribution to the building of the UK reggae industry as a songwriter and artiste since the 1960s.
Trailblazer Award  - Mikey Campbell for his contribution to the building of the UK reggae industry through his work as a sound engineer, producer, label owner and artist manager.
Trailblazer Award - record label owner Popsy for his continuing to efforts as a record retailer for over 40 years and his contribution to establishing Harlesden as the centre of Britain's reggae industry.
Trailblazer Award - Roy Forbes Allen and Gerry Anderson for the numerous records they have released over the years, their continued contribution to the reggae in the UK as record retailers for over 40 years and their efforts to make Harlesden the centre of Britain's reggae industry.
Trailblazer Award - Melissa 'DJ Cameo' Sinclair for her contribution to  British Reggae as an artist, magazine publisher and radio presenter.
Trailblazer Award - Cyrlene Braithwaithe for building Britain's Got Reggae as a platform for aspiring artists to showcase their talent in the UK and beyond.
Home Office Immigration Policies Symposium
Thursday July 19, 7-10pm
Brixton Community Base, Talma Road, Brixton SW2 1AS
An opportunity to examine current Home Office Immigration Policies in light of the Commonwealth And Windrush scandal and the emergence of a "hostile environment". Discuss the issues with a panel of experts who work daily with individuals affected by these policies. 
Panel includes: Nicholas Beales, Legal Manager, Bail for Immigration Detainees, Neasha Clarke, Director, Diaspora Support Network, Kwaku, Founder, BritishBlackMusic.com/Black Music Congress, Professor Gus John, Director, All Africa-Advisors Ltd, Akram Salhab, Advocacy and Campaigns Officer, Migrants Organise, Jacqueline McKenzie, Immigration and Asylum Law Practice, McKenzie Beute & Pop.
Click here to book.
Organised by Streatham Labour Party activists under the umbrella of Brixton Hill Labour Party Ward.
African History Reflection Day: From Empire Windrush, Bristol Bus Boycott To Stephen Lawrence
Friday Aug. 31, 6.30-8.30pm
Harrow Mencap, HA1 3EX
History consultant Kwaku will lead this African History Reflection Day session, weaving the historic and legislative thread from the famed docking of Empire Windrush in 1948 to the 1962 Commonwealth Immigrants Act, the 1963 Bristol Bus Boycott and Paul Stepenson's 1964 pub protest to the 1965 Race Relations Act, the 1993 murder of Stephen Lawrence to the 2005 change in the double jeopardy law and to the 2018 government announcement of Stephen Lawrence Day on April 22.
The event is part of marking African Jubilee Year 1987-88 @ 50, 1968 Race Relations Act @ 50 and UN's International Decade For People Of African Descent (IDPAD) 2015-24 initiative.
Heads up: 'August 23: Marcus Garvey And The Significance Of August Within Global African History' presentation takes place in Holborn on Friday Aug. 24, 6-7.30pm. Click here to book.
Black Heroes Foundation Black Heroes Soul Food Cafe. July 26, 7.30-10pm. Leilani Restaurant & Ashanti Lounge Bar, SW11 5RW. Click here.
OK, so we've given you the heads up on the Jamaican government planning to have a list compiled of British Jamaicans who've contributed to the development of reggae.
Here's another heads up: the BBMC Family is planning to launch a reggae museum at its Willesden Green base. So if you have some reggae artefact or memorabilia to donate or lend - hold tight for further.

Made it to the Trojan @ 50 celebratory do at the Turtle Bay Caribbean restaurant in Brixton. Don Letts was one of the night's DJs spinning tracks from the BMG-owned Trojan catalogue. On display was a copy of '50th Anniversary Box Set', a definitive collector's item consisting of 4x 12" LPs, 6CDs, 2 x 7" vinyl singles, an album covers book, 7" adapter, poster, patch and slipmat! 
A select few had copies of the Laurence Cane-Honeysett-authored coffee table book 'The Story of Trojan Records', out later this month via BMG Books and Eye Books. I was able to scan through Cimarons guitarist Locksley's copy. It's luxuriously illustrated with I'm sure any facts a Trojan anorak could ever want! Brent was well represented by Zerritha Brown, a council staff and curator of the borough's Windrush exhibition at Brent Museum, and whose reggae muso father was in the house; former Trojan marketing manager and Carib Gems label owner Chips Richards, and Locksley, who thought the capital of British reggae out to bed Queen Park, where Cimarons started in 1967, rather than Harlesden :-).
Look out for 'Rudeboy: The Story of Trojan Records', a documentary which chronicles the rise and impact of Trojan, and Jazz Jamaica All Stars' 'The Trojan Story' UK tour in the autumn.. Click here for updates on the Trojan @ 50 programme of activities. And click here to watch the ITV News' Trojan @ 50 clip.  
Click here to check out 2018 IRD Awardee Cyrlene Braithwaithe's Britain's Got Talent Twitter feed between July 2-10 for IRD LDN conference photos and video clips of 2017 IRD Awardee Neil 'Mad Professor' Fraser, and 2018 IRD Awardees Melissa Sinclair and Mikey Campbell. For those who wanted to hear a lot more from Mikey, hold tight, we'll lock down a date with him and let you know.
Also pencil in Sunday October 14, and look out for confirmation of a Reggae @ 50 In Brent event, which includes screening of the 'Brent Black Music History' DVD and a presentation by reggae producer and journalist Mandingo. 
BBMM2018 Recommended Book 'Reggae: Larger Than Life' (Shaun Cain)
This is the first edition of Shaun Cain's self-published book. Noting that it's sub-head 'The Ultimate reggae Music And Fun Games Book' gives one a better idea of what this book is about. Shaun has made a creditable effort to produce a well laid out book that has much to interest reggae fans, particularly those looking for something different from the proliferation of artist biographies and profiles on labels and the various (sub-)genres.
It consists of a number of series of quizzes, albeit very Jamaica-centric, puzzles, and interviews with the likes of reggae singers Jack Radics, GWhizz and Da'Ville. It includes short glossary and biography. This book is for the reggae fan who wishes to test his or her knowledge, or the reggae fan who wishes to have fun with either family or friends.
This book consists of 250 quiz questions. It has two slimmer versions covering dancehall and reggae and lovers rock respectively, which contain 50 questions each.

As it's a resource for a quiz, look out for Shaun playing quizmaster at one of our upcoming Reggae @ 50 events in Brent. 
Ananse Arts is planning to launch ONE TV, a 24 hour Caribbean TV channel showcasing content from the UK and the Caribbean in Patois, English, French and Spanish. For more info: info@anansearts.org.uk.
Kei Miller at the Wilkswood Reggae Festival. July 21, 12-7pm. Wilkswood Farm, Dorset, BH19 3HD. Check here.
Catch A Fire Presents Jah Time International Band ft. live on stage Ana Rebel, Buffaloo, Cassie B, Glen Sloley... Aug. 5, 8-12pm. Upstairs At The Ritzy, SW2 1JG. Click here.
Reggae On The Lawn. Aug. 12. Forty Hall, Enfield. Click here.
Reggae's 50h Anniversary 1968-2018. Aug. 12. The Grand, Clapham. Click here.
Reggae Choir Vocal Classes. July-December at Straford and Willesdenn Green Library. Click here.
Love, Peace & Reggae - Britain's Got Reggae Music Event For Kent. Aug. 4-5. Chilli Farm, Dover. Click here.
Lambeth Country Show. July 21-22. Brockwell Park, Brixton. Click here.


Jah Shaka Carnival Dance. August 25, 10pm-6am. Gillian House, E16 4SA. Click here.
The Brothas Meet The Sistas Reggae @ 50. August 18, 10pm-4am. Bojangles Bar, Chingford. Click here.
One Love Reggae And Ska Festival. Aug. 31-Sept. 2. Gilcombe Park, Somerset. Click here.
PDM & Joyful Promotions in association Flava FM 
present Love & Romance Pt. 1. September 1, 10pm-5am. Royal Lounge, Wembley. Click here.
Barbados 52 Pre Independence Celebrations. November 17, 8pm-5am. The Luxurious Lounge, Wembley. info@marrantonbreeze.com.
Rastafarian Movement UK CIC has set up a crowd-funding page to help raise £3,000 to cover the costs associated with its African International Day of Action on Saturday August 18 2018 from 12pm in Kennington Park SE11 4BE. Click here to donate.
Click here to listen to 'The Trial Of Joseph Knight', the excellent dramatisation of the story of the enslaved African in Scotland, whose quest for freedom ended up becoming a key Scottish court case.
Click here to watch the Dr Kehinde Andrews' excellent BBC Newtopian vision of a pan-African continent.
Here's 2018 IRD Awardee Millie (Small) of 'My Boy Lollipop' fame. Below, she shows off her 2018 IRD Award. Thanks to Tony for exclusive photos.