Guyanese Online via mlsend.com 12:58 AM (23 hours ago)
to me

Entries for 01 September 2020
Demerara Harbour Bridge – built 1970
 Aug 30, 2020  Kaieteur News – Opinion
Foreign investors, wherever they go, do so for two main reasons: to enrich the host country so that the people can benefit; and to enrich themselves. However, in Guyana, foreign investors behave like scavengers, raping our wealth and leaving us dry, pale and penniless and with wounds which would never heal.
Guyana Goldfields is a prime example. A group of Canadians came here and set up shop. Our government handed them huge swathes of prime mining lands and they enjoyed duty and tax-free concessions galore to the tune of billions. in Guyana dollars.
----------
DEMERARA WAVES – By Denis Chabrol –  in Health, News – August 31, 2020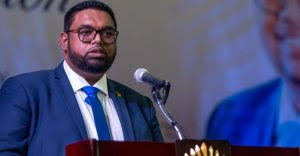 President Dr. Irfaan Ali
President Irfaan Ali on Monday announced that government would be providing a GYD$25,000 in relief to each household due to the adverse impact of the coronavirus, COVID-19.
In an address to the Annual General Meeting of the Private Sector Commission, he said in addition to the disbursement of funds to the health and education sectors, the household assistance would be provided. "We are working on a household intervention of about $25,000 per household," Dr. Ali said.        Continue reading →
----------
— takes effect from September 1 and ends on September 30, 2020
DEMERARA WAVES – in Business, Health, News August 31, 2020 – by Samuel Sukhnandan
Dr. Frank Anthony
Two weeks after relaxing the daily curfew time by two hours, the government has now decided to revert to implementing the old curfew from 6 P.M. to 6 A.M, as the coronavirus death toll increased to 41.
This new measure takes effect from September 1 and ends on September 30, 2020, according to the order published in the official gazette on Monday by Health Minister Dr. Frank Anthony.
About 400 others have been isolated, with just over one dozen in the Intensive Care Unit.          Continue reading →
----------
CLICK LINK ABOVE TO VIEW THE VIDEO
A Documentary by Lal Balkaran  – Part 3 of 4
It is the third of a four-part documentary on the Geography of Guyana in text and pictures that focusses on the third natural region known as the Highland or Forest Region. It is close to 24 minutes of viewing and consists of over 200 lines of text, almost 70 photographs, some of which are indeed stunning and taken by the author himself, and eight maps. The documentary profiles and captures the way to look at this region – both physical, political, economic, cultural, and human.
Included in the documentary are photos of the forest itself, major waterfalls, mountains, rivers, minerals, and the 547-km Georgetown-Lethem Road.
---
Guyanese Online | Published by Cyril Bryan - cybryan@gmail.com