Dear Sisters,
It's week five of quarantine life! How are we all holding up? I know everyone is implementing social distancing at varying levels, but with a newborn, we are DOING THE MOST and I haven't been inside a store or closer than six feet from another person outside our immediate family since Hazel was born on March 15.
Other than our daily walk and time spent in the backyard, I'm inside my house 24/7 right now... with my husband who is trying to work from home, a toddler who is adjusting to being a big sister and a newborn who has some major gas issues. There are lovely moments, and there are days I just want to cry. Weirdly, I haven't actually been able to cry since Hazel was born. I know it's related to all that is going on and feeling overwhelmed. I read an article today outlining the different trauma responses to this virus and I am really identifying with the numbness one. I'm looking forward to the day I can just have a big cry and release all the anxiety and tension and grief and joy and whatever else. Which response(s) are you experiencing?
I think it's important that we identify and work through how we are dealing with this strange time, even if we are seemingly handling it well, so I wanted to go first and share how I'm doing. Everyone's experience is different, and I'd love to hear from you!

What's hard?

One thing that's really been bugging me is seeing all the posts about people being bored, binge watching shows, taking up new hobbies, etc. and feeling jealous because I have way LESS free time than I did when things were normal—Julia went to school two days a week, and I didn't have a newborn. So while I've been listening to a lot of audiobooks while I do other things, I haven't had much quiet time to reflect, write, pray or have long phone calls with friends. I'm missing social interaction, but I'm also deeply craving a few hours of consolidated alone time where no one needs something from me. I tend to try to achieve this alone time by disappearing into my phone for a few minutes here and there ALL DAY, and I hate that. How are you struggling during this time?
What's wonderful?
On the other hand, I've truly enjoyed having Scott home with us all day, every day. He is such a calming presence and manages to work while supporting my postpartum self, changing diapers and teaching Julia new stuff every day. He also has successfully put an end to Julia needing us to sit with her while she falls asleep at night, which makes him my #1 hero. If that weren't enough, he's managed to pick up a new hobby—sewing—and made over 20 masks to give to healthcare workers. Is it obvious yet who keeps the Gentry train rolling? Scott Gentry: smashing gender stereotypes and making the best damn eggs I've ever tasted every morning for three years straight. What's been great for you during this season?
What's one thing you're doing well?
I saw a post on Facebook that broke my heart the other day. A sweet working mom videoed her home and wrote a post about how she just couldn't work from home with her two small kids and keep her house clean at the same time. She said they basically played unsupervised throughout the home all day, so there was stuff EVERYWHERE. Toys, blankets, clothes, etc. covered the floor of every room. She sounded like she was at the end of her rope.
I 100 percent understand this. I don't work full-time and my house becomes messy just a couple hours into our day. All of the members of our family are not great at putting things back after using them, and I'm just not the girl who is going to spend my whole day cleaning up to keep the mess at bay. I'm so lazy. 😣 We eat three meals a day at home, so there are always dishes to do. I'm breastfeeding and Hazel is a spit-up baby, so I feel like she and I both change clothes three times every day! We definitely have our share of messes.
So... I know I have written about this multiple times before, but... the only way we stay sane around here is by having less stuff. When there are less toys to get out, there's less mess to clean up. When you have fewer clothes, there's less to wash and fold. Even at our peak messiness, about 30 minutes of effort can pull things together enough to give me some mental peace.
This has served us really well during the quarantine, and I'm really proud of our naturally messy selves keeping our house livable even without people coming over to motivate me to clean. 🤣
What are you proud of yourself for doing or not doing throughout the pandemic?
Where can give yourself a break?
Scott's boss was so kind to tell his employees the other day during a meeting: "Look, none of us are going to have a full tank of gas all day, every day during this thing. Just do your best." He meant it in terms of work, but it spoke to me as a parent, too. You know what is OK right now? My toddler watching a Disney movie every single day (Disney+ is amazing!). IT IS FINE AND WE ARE LOVING IT. It's so fun to watch our childhood favorites with her. I'm normally a freak about TV time, but you know what? It's just gonna be OK right now.
Are you trying to figure out how to teach your child common core math while working from home? Give yourself a break.
Are you living your very best life and feel a little guilty because others are struggling? Give yourself a break.
Are you unable to be as productive as you want to be because you feel so anxious? Give yourself a break.

Did you lose your job and have to ask for financial help? Give yourself ALL the breaks!
Are you an essential worker? THANK YOU!!! Again. All the breaks. Just take care of yourself.
+++
No matter what your experience the past month has been, know that you're not alone in loving some of it, hating some of it and simultaneously struggling and growing. I can't wait to see the ways this time shapes us and what it will end up teaching us. Something to remember is it's very hard to see the ways in which we are growing in the middle of a difficult season. We will need time to process all of this before we can emerge with new wisdom.
So, while I think it's important to stay positive and keep things in perspective, it's also OK to wallow a bit while we're still in the middle of this thing. We're gonna make it, friends!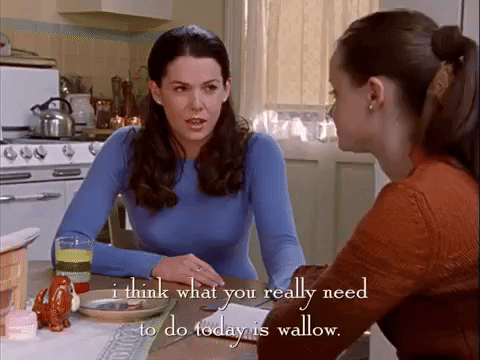 Love, Jill