Guyanese Online: NEWS ARTICLES: Nov 10-15, 2019
Also View: Guyanese Online: ASSOCIATIONS EVENTS: at Nov 15, 2019 
News and Feature Items:  November 10-15, 2019
Guyana Politics: 650,000+ registered to vote in upcoming elections
Guyana Politics: PPP's Presidential Candidate Irfaan Ali wants Jagdeo as his Vice President
Guyana Public servants getting around 9% wage hikes
President Granger joins 180th Victoria Village celebrations
University Of Guyana Names Professor Edward Greene As New Chancellor
Guyanese conservationist to speak at Guyana Consulate- NYC – December 5, 2019
PROFILE: Joylyn Anita Conway: Miss World-Guyana – Dr. Dhanpaul Narine
Short Stories: My Recollections of CHARLOTTE STREET in Georgetown Guyana – By Royden V. Chan
Guyana's Villages: Pray Tell- What has happened to our Village? – By Yvonne Sam
Caribbean: What's going on in Haiti part II? – By Jean H Charles
CARIBBEAN: Time to transform CSME and CARICOM – By David Jessop
Shared Embassies: Overhauling Caribbean Diplomacy – David Jessop
Analysis: Why the Michael Bloomberg's late entry into the US Democratic Party 2020 race?
USA: This Presidency Has Exposed My White Christian Friends – commentary
The USA's War on Chinese Advanced Technology – By Prof. Jeffrey D. Sachs
God Save the Queen: The US Destruction of the British Empire – Larry Romanoff | Global Research
NYC: Guyanese family mourns as husband kills Queens newlywed woman
World Scientists' Warning of a Climate Emergency – by Rosaliene Bacchus
Is Urgency over the need to curb Global Warming finally taking hold? – By Mohamed Hamaludin
MUSIC: 50 Years of the Best-Selling Music Artists 1969 – 2019
OPINION: Blacks: Leaders, Choices and Voices – By Yvonne Sam
Dance Music Video: "Born to be alive" – vintage dance compilation from movies
                                      ****************
      GUYANA and CARIBBEAN RECIPES – New Listings now available
                                     ****************
**************************
BOOK FEATURE
Eric Williams and the Anticolonial Tradition: The Making of a Diasporan Intellectual – By Maurice St Pierre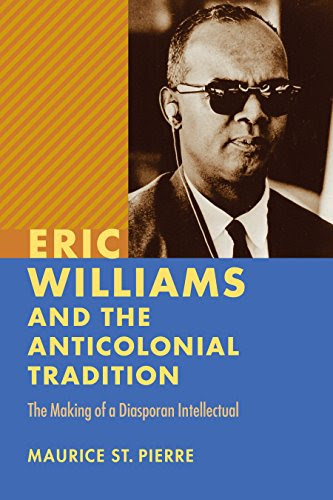 A leader in the social movement that achieved Trinidad and Tobago's independence from Britain in 1962, Eric Williams (1911–1981) served as its first prime minister. Although much has been written about Williams as a historian and a politician, Maurice St. Pierre is the first to offer a full-length treatment of him as an intellectual.
St. Pierre focuses on Williams's role not only in challenging the colonial exploitation of Trinbagonians but also in seeking to educate and mobilize them in an effort to generate a collective identity in the struggle for independence.   READ MORE... and ORDER 
**************************
---
Guyanese Online | 1401 Dupont Street. Toronto. ON M6H 2B1
This email was sent to

|

Unsubscribe

|

Forward this email to a friend