Entries for 27 July 2020
- PPP dismisses contention
By Stabroek News – July 26, 2020
The incumbent APNU+AFC today claimed that there was  "a carefully orchestrated plan to oust a legitimately elected government and to implement regime change", a contention which has been dismissed by the PPP.
In a statement APNU+AFC also maintained that GECOM must not include alleged "fraudulent" votes in a final declaration.
A statement by APNU+AFC follows:          Continue reading →
----
Senator wants to 'save' US history from New York Times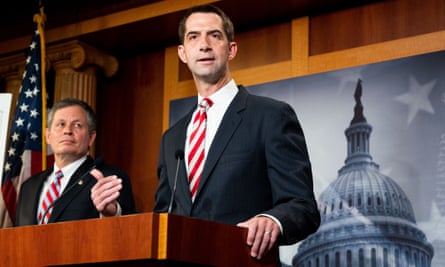 Tom Cotton speaks at a press conference in Washington. 
Bryan Armen Graham @bryanagraham – Published onSun 26 Jul 2020  – The Guardian
The Arkansas Republican senator Tom Cotton has called the enslavement of millions of African people "the necessary evil upon which the union was built".Cotton, widely seen as a possible presidential candidate in 2024, made the comment in an interview with the Arkansas Democrat-Gazette published on Sunday.    
----
Owen Arthur
Stabroek News July 27, 2020
(Barbados Nation) From humble beginnings in St Peter, Owen Seymour Arthur, who passed away yesterday,  rose to lead Barbados during one of its most turbulent times, serving as Prime Minister from 1994 to 2008.
After Prime Minister Sir Lloyd Erskine Sandiford fell via a no-confidence motion and then announced an election in 1994, Arthur rallied the Barbados Labour Party (BLP) faithful to take the reins of power.
He went on to also win the General Elections of 1999 and 2003. His tenure remains the longest among Barbadian Prime Ministers and he was the fifth to hold that office, handling the portfolio of Minister of Finance and Economic Affairs.      Continue reading →
---
Flavia Krause-Jackson – 25 July 2020 – Bloomberg.
Even as the world continues to battle the coronavirus (COVID-19) pandemic, several countries, where the daily growth of new infections has reduced, are beginning to take tentative steps to ease lockdown measures in order to allow citizens to move freely for the first time in weeks and to revive the economy..
(Bloomberg) — Shuttering businesses, grounding airlines and ordering people to stay home was hard enough the first time. The thought of having to do it all over again is something world leaders don't want to even contemplate…. "The Virus 2.0 Nuclear Option."       ..   Continue reading →
---
CLICK LINK ABOVE TO VIEW THE VIDEO
TRAVEL: Why Recreational Vehicle (RV) Sales Are Growing
July 24, 2020 – CNBC News – The Coronavirus has speeded up sales this year
In the years that followed the financial crisis, sales of RVs began booming. Once considered a pretty dowdy way to travel, RVs have benefitted from slick industry ad campaigns, low gas prices, and a renewed interest among Americans of all ages.
Data indicate first-time buyers are pouring into RV dealerships and shows, looking for their own happy home on the road. But long-timers say new buyers need to do their research before buying, and understand what the RV life is really about.
---
Guyanese Online |  Published by Cyril Bryan - cybryan@gmail.com
This email was sent to

|

Unsubscribe

|

Forward this email to a friend