Welcome to the second edition of Run of Show, a bimonthly newsletter that demystifies the long-misunderstood yet deeply-effective growth machine—events. You get one original idea, interview, and framework curated and delivered to your inbox.
It's hard to shake off the feeling that you're just not doing enough at a high-growth marketing team. So many good ideas stagnate in the backlog. So many that if I start jotting down the pros and cons of all, it may outrun the credits of a Marvel movie.

There's a very simple matrix that makes decision-making at crossroads like this easier. An idea is given the green light based on where it sits in the good ol' effort-to-ROI matrix.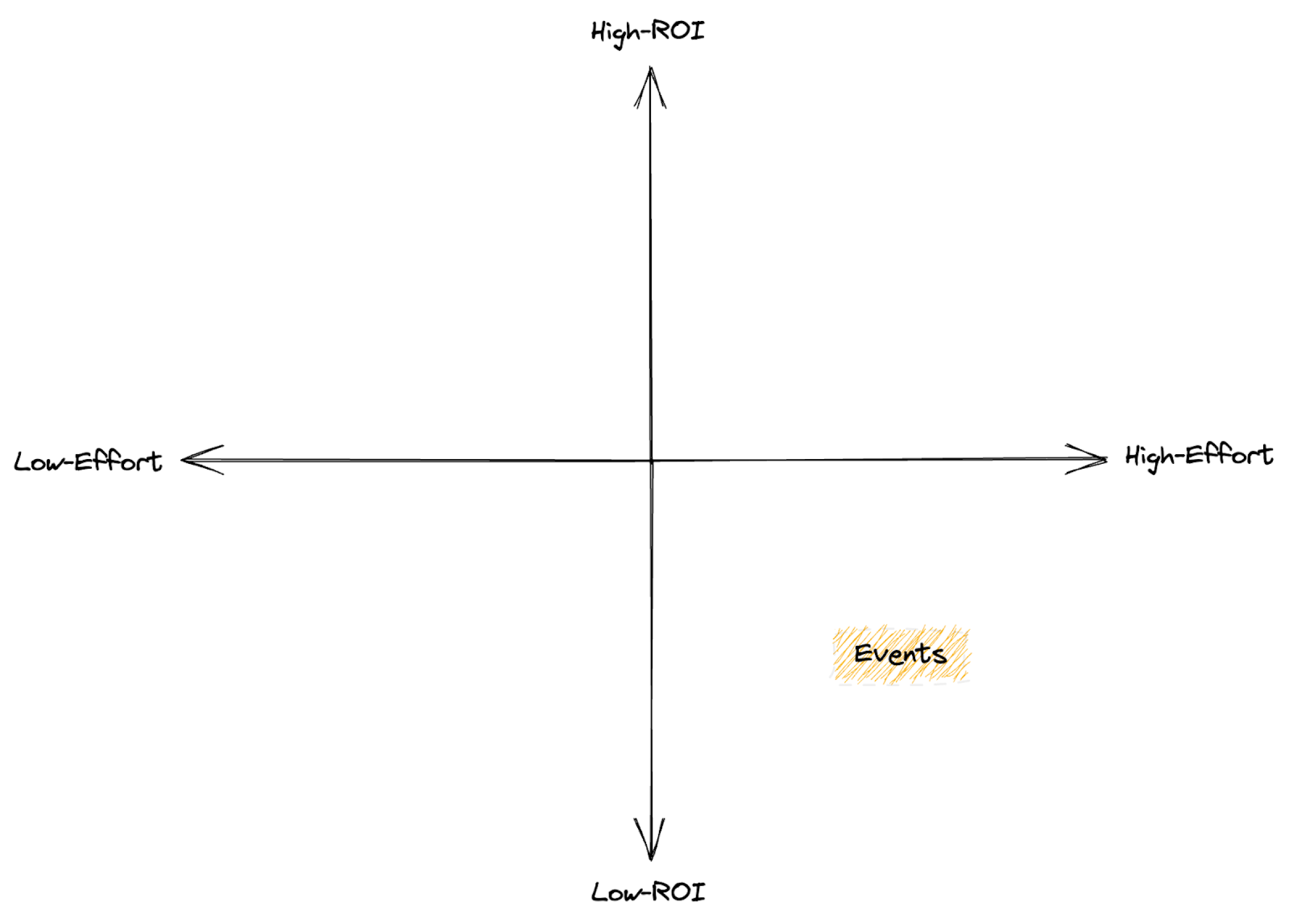 Where marketers peg events on the effort-to-ROI matrix
Okay, I take it back. It's not so simple. There's an additional time-to-value angle to this that makes it infinitely more complicated. Some efforts take longer than others to reach their fruition and gauge efficacy. And some marketing efforts will always remain acts of faith because—let's say it together—not everything can be measured. At least not yet.

Today's issue is about how marketers perceive events. I've spoken to enough marketers to know where they place events in this matrix.

And maxims like 'it takes a village to run an event' are inconveniently pitted against me as I build my pitch. But hear me out.

An event, by definition, is an occurrence that has a start and end date. All the effort goes into planning for the big day. (And all the drinking happens after the big day is a success.)

The definition is the problem. You're shrinking the lifetime value of an event by treating it as a one-time offer. And as a result, the short-sighted success metrics you tether to it can position events as a seemingly low-ROI activity. It did take a village to put on the show, after all.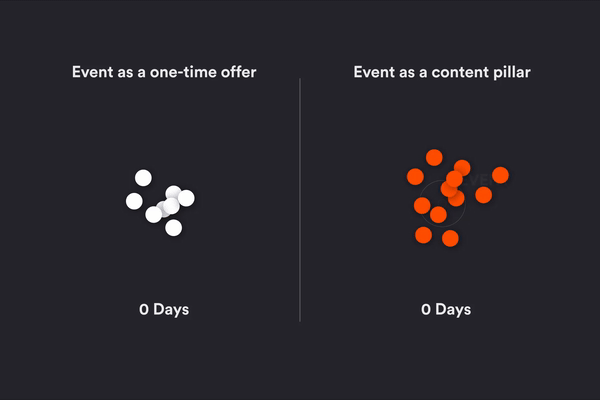 Compounding audience engagement when an event is a content pillar
I know what you're thinking. This isn't another article that gives you eight crafty ways you can turn your events into content confetti. No. That makes content production an afterthought rather than a premeditated strategy (that it should be).

I'm talking about making the event your content pillar.

By that, I mean reverse-engineering your content roadmap to guide your event calendar. It involves thinking about the content themes your brand cares about producing and crafting event experiences that deliver that.


The content offers are the end goal. The event is just the instrument.

But why deliver an event experience at all?

Events combine the best of both worlds—real-time connections and a boatload of media and long-term content that can be used to create demand.

Your event can be an experience that people fondly remember and, at the same time, become the Trojan Horse for all your marketing content. You can create video snippets for your social media which can further be amplified by the influential speakers in that session. You could drum up multiple angles and versions of blog articles from a single session. And not worry about any of them being copycat content because of the subject matter experts' points-of-view they contain. You can create a podcast version of events and add your commentary. Like I said, a boatload of content—high-quality and unique content.
Events as the Content Pillar

Building an events calendar should be synonymous with building an editorial calendar.

Airmeet's latest Eventions series was conceived using the exact same principle. We took stock of all the content clusters and topics we wanted to produce and built an Event calendar out of it. Today, our website, blog, social media, newsletters, and media are a concoction of consistent content and messaging—packaged differently to suit different channels.

But the 'events as a content pillar' approach posits two challenges.


Finding speakers who align with your narrative

It could be hard to find speakers who align with your story. Make the process as collaborative as possible. Make it stupid easy for them to understand the event takeaways and where they can share their expertise and experience. If you've got no luck converting a speaker, turn to internal speakers. Who better to share your story and educate your audience than your internal team?


Is this topic an event, a blog, or a tweet?

It would be impossible and counterproductive to convert every content wishlist item into an event. You'll find out the best fit for an event when you answer 'yes' to any one of these questions.

Is your topic contrarian or topical within your industry or category?

Can this topic be turned into a conversation and elicit live collective participation?

Are you trying to associate yourself with an uncharted topic cluster or category? (Speakers and content make events the fastest way to establish authority)
And that's almost a wrap on this week's issue. But as always, I'm going to leave you with three quick takeaways from marketing veterans who've worked in companies like Drift, Hootsuite, 6Sense, and Pepper Content.
#1. Bake post-event content into your speaker's contract

Your speakers are your biggest sources of amplification. Bethany Murphy, Head of Events at 6Sense, shares a quick tip on how you can leverage their influence to get more attention.
"I always feel strongly that we spend so much time and energy and money curating event content. It's super important that the content lives beyond the one day of the event. At Drift, what we would try to do is build into our speaker contracts, all the deliverables that we wanted our speakers to commit. And one of those things was a post-event blog. So we'll tell them—allow us to write on your behalf if you want. But to actively share it within their network about the session post event to continue generating buzz and hopefully drive people to watch the sessions, post-event as well."
(Source: Airmeet Marketing Events)
#2. Factor in the social media ripple effect as a KPI

Laura Lilley, Global Experiential Marketing & Events Manager, encourages marketers to look beyond the common success metrics to prove the value of their events.
"Any event, we repackage it as ten-second clips or carousels of highlights or takeaways from the session. So we can put that on LinkedIn or Instagram. The great thing is that a lot of my KPIs come from social. You can get things like positive sentiment and social share of voice. So that's a great metric to add to your data and ROI for proving the value of your events."


(Source: Airmeet Marketing Events)
#3. Don't answer the gated vs. ungated debate with a yes or no
Answer it with a yes and no.

Pawan Rochwani, Head of Community, Events, and Partnership at Pepper Content, has a very interesting take on this conundrum.
"We put our sessions as a gated resource for at least 7 to 14 days after the event. But we keep sharing some smaller snippets of it on Twitter and our Slack community so that it not only intrigues people enough to want to know what happened at the event but also to make them not want to miss the upcoming events as well."


(Source: Airmeet Marketing Events)
In his book, Founder Brand, Dave Gerhardt spoke of podcasts as the catalyst for all content marketing activities at Drift and Privy. We couldn't agree more. To that we're adding: a series of event experiences can do all of that and then some. Tune in to discover what goes into creating and producing an Event Series. And go back with an Event Series idea of your own.
Psst I hate one-sided emails. They're no fun. If there's anything you'd like to know about how we produce our event content or how we run Eventions, shoot me a reply. :)

Until next time,
Sam
| | | |
| --- | --- | --- |
| If you liked this edition, help us spread the word. | | |