Entries for 15 August 2020
Photo: Pres. Irfaan Ali
CMC- Georgetown – Chief Magistrate Ann McLennan Friday dismissed 19 fraud-related charges against President Irfaan Ali over the sale of state lands in the "Pradoville 2" Housing Scheme.
The charges against Ali detail offences alleged to have occurred between the period of September 2010 and March, 2015, when he was housing minister in a previous People's Progressive Party/Civic (PPP/C) government, and involved house lot allocations to six former Cabinet members, including the now Vice-President, Bharrat Jagdeo, former cabinet secretary Dr Roger Luncheon and four former government ministers, Priya Manickchand, Dr Jennifer Westford, Robert Persaud and Clement Rohee.
------
Photo: Dominic Gaskin
Dominic Gaskin discusses elections and future in politicsBy Stabroek News –  August 14, 2020
Former Minister of Business and AFC Executive Dominic Gaskin discusses the pre and post March 2nd event, his future in politics and the relationship with his father-in-law and former President David Granger, among other issues.
Play Audio: Go to Stabroek News Audio:stabroeknews.com/2020/08/14/news/guyana/dominic-gaskin-discusses-elections-and-future-in-politics/
.Audio Player   39:56 –  Use Up/Down Arrow keys to increase or decrease volume.
-------
By Jared Proudfoot | Bandcamp Daily
Jamaican music as we know it today—from mento to ska, rocksteady, reggae, dancehall, and dub — has been well documented. But within those genres, there was a small but influential group of innovators whose story is not as well known. — these were the studio and record shop owners, sound system engineers, producers, and session musicians who each played an underappreciated but outsized role in the development of Jamaican music as we know it. They were also all descendants of the Hakka people from the Guangdong province in China.             
The emergence of a Chinese-Jamaican commVincent and Patricia Chin; Clive Chin; Mikey and Geoffrey Chung; Byron Lee; Justin Yap; Leslie Kong; Ernest, Jo Jo, Kenneth, and Paulie Hoo Kim unity in Jamaica dates back to the 1850's, when a population of Hakka Chinese moved to the island as indentured laborers.      Continue reading →
------
The rise in home working has thrown city centres into crisis. If I were in the property game, I'd buy anywhere with a cathedral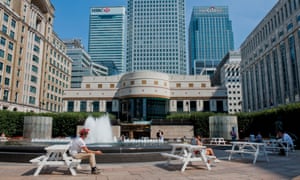 'Walk through London's Canary Wharf (above), Manchester's Deansgate or Birmingham's Colmore Row, and you see ghost cities.' Photograph: Jill Mead/The Guardian
Is the office dead? Not an office, which everyone needs, but "the office", the institution, the corporate HQ, the great overhead in the sky. Just as once the farm gave way to the factory and the factory to the desk, so technology transforms the nature of work. At the turn of the 21st century the digital revolution shrank offices to tiny screens. From then on offices have lived on borrowed time. Coronavirus has called their bluff. But has bluff also been called on the office's sovereign domain, the city centre?          Continue reading →
------
Consumers are hoarding banknotes. And perhaps crooks are struggling to launder their ill-gotten gains
Graphic detail  – Aug 13th 2020 – The Economist.
A YEAR AGO America's Federal Reserve Board placed an order with the Treasury Department for 5.2bn new banknotes—part of an annual exercise in which old, damaged bills in circulation are replaced with crisp new ones. Alas, the order proved too small. In March, as coronavirus panic gripped financial markets, jittery Americans lined up to withdraw cash from their bank accounts..... The government's printing presses are currently churning out more than 27m banknotes a day.      Continue reading →
---
Guyanese Online |   Published by Cyril Bryan --- cybryan@gmail.com
This email was sent to

|

Unsubscribe

|

Forward this email to a friend