Entries for 31 July 2020
Photo: Exxon-Mobil- Deep Water Champion Oil Exploration Rig
CMC, –Added 30 July 2020
CMC – Georgetown – Two more high quality oil reservoirs have been discovered by United States oil giant ExxonMobil, in Guyana's Stabroek Block..This was reported on July29, and confirms that recent drilling operations to appraise the size of a previous discovery had identified two additional high-quality reservoirs.          Continue reading →
---
From Guyanastory – By Dr. Odeen Ishmael
RUMOURS OF FREEDOM OF SLAVES – 1823
Slavery Uprising in British Guiana (Guyana)
In England, some organisations were established to campaign for the abolition of slavery in the British colonies. These included the Baptist Missionary Society, the London Missionary Society, the Church Missionary Society, the British and Foreign Bible Society, the Methodist Society, and the Anti-Slavery Society formed in 1823.
The Anti-Slavery Society was very influential since among its members were the Quakers and important Members of Parliament including William Wilberforce, Thomas Clarkson and Fowell Buxton. In April 1823 Buxton presented a motion in the House of Commons calling for a gradual abolition of slavery in all British colonies, but it was defeated because the majority felt that abolition of slavery would leave the planters without a labour force.   Continue reading →
---
 Jul 31, 2020  Kaieteur News – By Kemol King
– Harmon says court erred, maintains only 'valid votes' count
Pres. David Granger
President David Granger has said that he will accept any declaration of the Chairman of the Guyana Elections Commission (GECOM), retired Justice Claudette Singh SC, CCH and that such acceptance is not conditional.
He was, at the time, responding to questions during the commissioning of the new Infectious Diseases Hospital, recently retrofitted out of the Ocean View Hotel property at Liliendaal, East Coast Demerara.
The question pointed to the President – leader of APNU+AFC – was, given the party's stance on valid votes, whether he would accept a declaration which includes votes he considers invalid.    Continue reading →
----
Jody Brimacombe – Posted  on blog TO
Canada is running out of $50 bills because people are hoarding them
Oh, Canada; first toilet paper, and now this. The Bank of Canada is reportedly facing a shortage of $50 bills and it's likely because Canadians are hoarding cash.
The Bank of Canada told CTV News that the shortage won't impact the consumer's ability to withdraw cash but it may require banks to alter their cash orders.  Continue reading →
----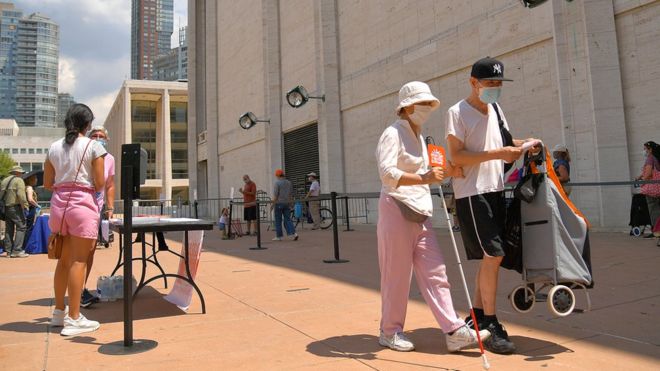 Food banks have seen a surge in demand – GETTY IMAGES
The US economy shrank at a 32.9% annual rate between April and June as the country grappled with lockdowns and spending cutbacks during the pandemic. It was the deepest decline since the government began keeping records in 1947 and three times more severe than the prior record of 10% set in 1958.
Economists have said they expected to see the sharpest drop in the second quarter, with recovery thereafter.
But as virus cases in the US surge and some areas re-impose restrictions on activity, the rebound is showing signs of stalling.          Continue reading →
---
Guyanese Online |  Published by Cyril Bryan : cybryan@gmail.com
This email was sent to

|

Unsubscribe

|

Forward this email to a friend