Entries for 24 September 2020
I will not accept this project …President Ali tells Chinese contractor, other stakeholders
 Sep 22, 2020  News–  –– investigations to be launched
Years of anger over the ongoing US$150M-plus expansion at the Cheddi Jagan International Airport (CJIA), Timehri, culminated yesterday with an angry President Irfaan Ali making it clear that Guyana will not be accepting the project as is.
President Irfaan Ali with Chinese ambassador to Guyana, Cui Jianchun.
During a meeting and tour of the project, the president also vowed an investigation will be coming and that it is unacceptable that a fixed-price project could be so drastically reduced in scope.
CHINESE AMBASSADOR PRESENT    Continue reading →
-----------------------
Sep 23, 2020  News  – By Kemol King – – And growing exponentially
Hundreds of young persons were tested positive and have since recovered from COVID-19.
It is matter-of-factly more likely to know someone who has recovered from COVID-19 with little hassle, than to know someone who has endured pain and suffering, or even worse, died after being infected by this virus. And it is easier for the young and strong to go about their lives knowing that many of them will be alright.
But COVID-19 is creeping up on Guyana, and the reality is that the country's eagerness to return to 'normalcy' is manifesting itself in real consequences in the lives of the vulnerable.      Continue reading →
------------------------
Guy Hewitt– The Guardian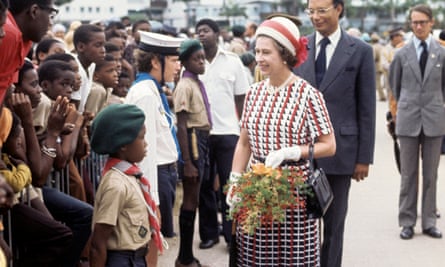 The Queen in Bridgetown during her Silver Jubilee tour of the Caribbean in 1977. Photograph: Ron Bell/PA
Tue 22 Sep 2020 13.39 BSTThe decision to drop the Queen had long been planned, but the shameful Windrush scandal altered perceptions of the 'mother country' .Barbados's recent announcement that it will become a republic, ending the tenure of the Queen as head of state by November 2021, is noteworthy not only for what is said about the island but also about changes in perception of Britain and its monarchy.     
-----------------------------------
COMMENTARY
What's better than bar jokes for English majors, grammar nerds and writers? When they also serve as mini grammar lessons! These jokes are all over the internet, and unfortunately, I couldn't find the author. But here they are for you, with my lessons:
A dangling participle walks into a bar. Enjoying a cocktail and chatting with the bartender, the evening passes pleasantly.
A dangling participle is one intended to modify a noun that is not actually present in the text. The second sentence reads as if the evening is enjoying the cocktail and chatting, which makes no sense.        Continue reading →
---
Guyanese Online |   Published by Cyril Bryan - cybryan@gmail.com
This email was sent to

|

Unsubscribe

|

Forward this email to a friend