Entries for 10 October 2020
Click to Enlarge
Madeira Island – From Whence the Portuguese Came. 
Editor's Note: from The Vincentian Publishing Company.
Friday 27th November, 2020 marked the 175th Anniversary of the arrival of the first the Madeiran Portuguese people in St. Vincent and the Grenadines.
We are pleased to commemorate this milestone with extracts from a soon to be published booklet entitled, 'An Historical Overview of the Portuguese in St. Vincent and the Grenadines & the Bellevue Roman Catholic Church', authored by Rev. Mark De Silva, to whom we are grateful for allowing the use his work.            Continue reading →
------------------------------------------
  – by Francis Quamina Farrier
While it is winter in countries in the north – America, Britain, Canada, Denmark, France and other European countries, it is now summer Down Under in countries such as Argentina, Australia, New Zealand and South Africa. This is also true in other countries such as Botswana in Africa and Uruguay in South America – countries which are way down south of the Equator.
 As such, they spend the Christmas Season in a warm climate without any snow. Their Winter months are during mid-year. While on visits to Argentina, Australia, New Zealand and Uruguay, I recognized the weather realities of those countries which are Down Under at the southern or bottom portion of the globe.          Continue reading →
-----------------------------------
By Stabroek News  December 7, 2020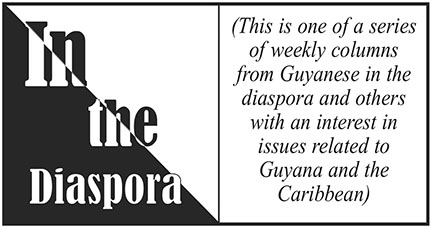 Amidst the COVID-19 pandemic and economic crisis, countries across the region are managing various kinds of disasters. Long-standing problems multiply and are exacerbated/exposed during moments of crisis. Perhaps the most glaring and normalised is gender-based violence and intimate partner violence — which has risen globally during the pandemic.
Further, migration fueled through economic, socio-political and/or climate crises has become even more difficult to manage as countries grapple with multiple and complex challenges. Yet migrants and refugees become easy targets and scapegoats as countries shore up national borders while relying on migrant labour and treating migrants as pariah and disposable. There is something here to be unravelled in the violence towards women and children and the violence towards migrants — entangled at the intersections of class, race and gender.    Continue reading →
---------------------------------------
Also check out the RECIPES on Guyanese Online.. Here are some links:
1. Cuisine: Recipes for Some Guyanese delicacies for the Christmas season
2. RECIPES From Guyana and the Caribbean – From Guyana Outpost archive
3.  Guyana Recipes by Zorinaspice – 43 videos – autoplay
---
Guyanese Online |  Published by Cyril G. Bryan - Cybryan@gmail.com
This email was sent to

|

Unsubscribe

|

Forward this email to a friend