Entries for 19 October 2020
Oct 18, 2020- The Story within the Story – By Leonard Gildarie
Kaieteur News – In the next few years, the country will be unrecognizable, especially when it comes to demographics.
The Venezuela crisis has pushed hundreds of thousands of residents of that oil-rich country elsewhere.
We have received, it is estimated, in excess of 50,000 of them here with a community established in Region One.
The figures would not take into account the number of returning Guyanese. Hundreds of them have come back home with hopes of reversing their dire financial situation.        Continue reading →
------------------------------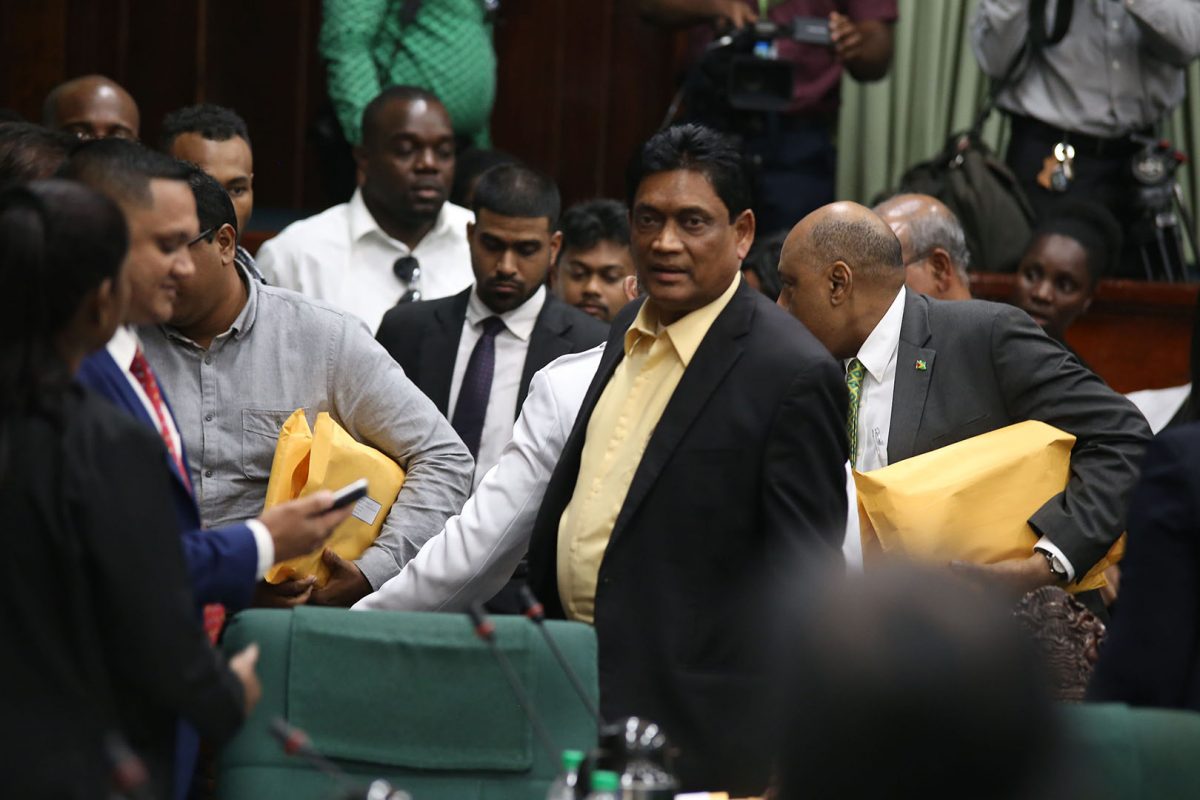 Former government MP Charrandass Persaud (at right in foreground) after his stunning vote in favour of the PPP/C's motion of no-confidence against the government. (Stabroek News file photo)
By Stabroek News-  October 18, 2020.Former parliamentarian Charrandass Persaud, who was responsible for the crucial vote that led to the passage of the December 21st, 2018 no-confidence motion against the former APNU+AFC administration, has returned to Guyana.
Sunday Stabroek was reliably informed that Persaud returned here on October 9th, 2020.          Continue reading →
----------------------------
Demerara Waves: Denis Chabrol in Health, News October 18, 2020
Guyana's coronavirus death toll on Sunday afternoon stood at 111, even as the country grapples with lax enforcement of measures to help curb the further spread of the virus.
The Ministry of Health said the latest fatality is a 78-year-old man from Region One (Barima-Waini) who died while receiving care at "our medical facility."    Continue reading →
-----------------------------
— gov't should note Venezuela's 'Dutch Disease'
By Stabroek News –  October 16, 2020
Dear Editor, …….. Letter by Geoffrey Da Silva
Venezuela has the largest reserves of oil in the world (300 Billion barrels). Since 1928, Venezuela has been infected with the oil 'Dutch Disease' in its financial, political, economic, and social spheres.
In essence, the economy is mismanaged. The strategies of different governments were not sufficiently focused on using most of the oil revenues to grow a diversified, open and sustainable economy with competitive businesses in the non-oil sectors.    Continue reading →
---------------------------
Technical presentation by JHI Associates- a Canje Block partner.
This is a technical presentation about the formation of oil reservoirs in Guyana and Suriname.  It has an excellent presentation of how the oil deposits of Guyana and Suriname were formed after millions of years with the continental shifts which separated South America from Africa. It may be a good idea to save the 23 page PDF PowerPoint presentation that fully explains the processes with colourful diagrams.
Hydrocarbon System and Major Tectonic Events of the Guyana Basin
Guyana/Suriname Basin Hydrocarbon System Three Rivers and Two Source Rocks
By K Nibbelink, D Boyce, M Nasser, J Boyce, R Webster and F Cedoz JHI Associates (BVI), Inc.             Continue reading →
---
Guyanese Online |   Published by Cyril Bryan - cybryan@gmail.com
This email was sent to

|

Unsubscribe

|

Forward this email to a friend