.
Entries for 12 September 2020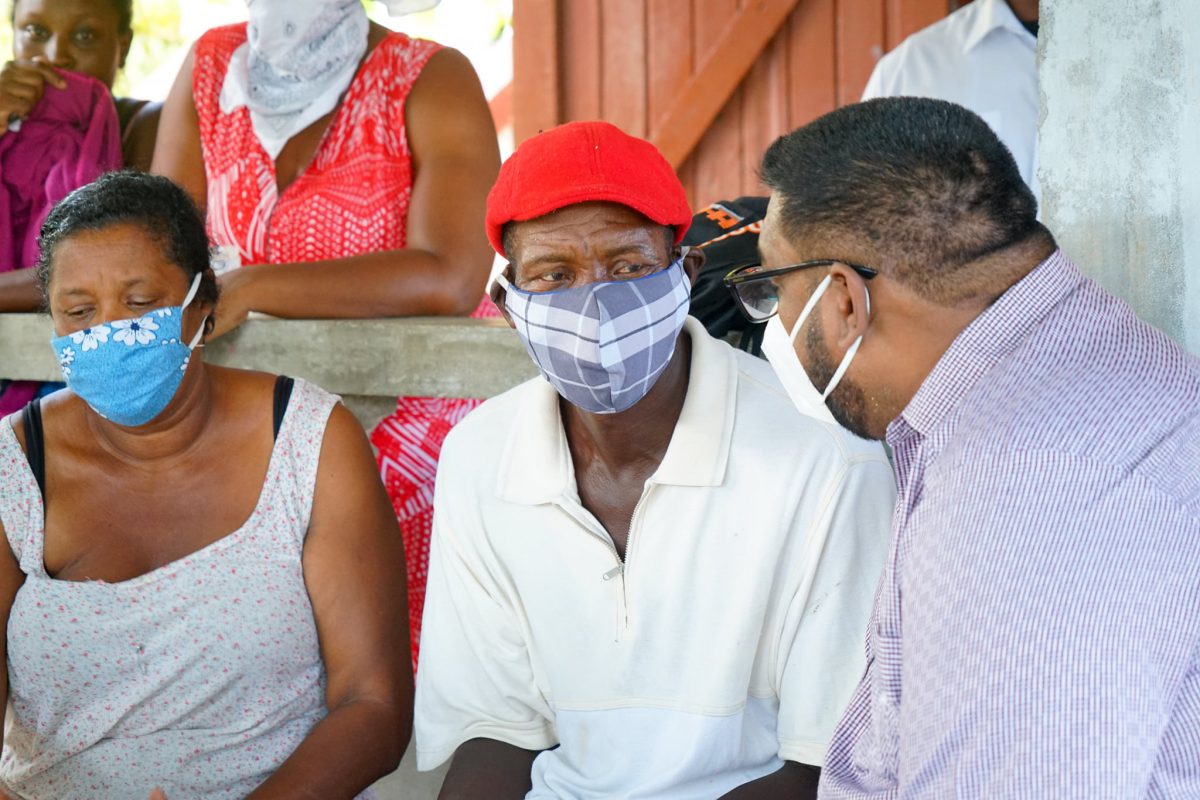 President Irfaan Ali (right) visiting with the family of Isaiah Henry  By Stabroek News – September 11, 2020
President Irfaan Ali today (September 11, 2020) met with the families of the three youths who were recently killed on the West Coast Berbice.
A release from the Office of the President today said that he assured the families that everything possible will be done to bring the perpetrators to justice.
The killings last weekend of Isaiah and Joel Henry triggered major unrest along the West Coast Berbice. Haresh Singh was murdered on Wednesday.    Continue reading →
----------
Skeldon Factory
By Stabroek News –  September 7, 2020 – EDITORIAL
In keeping with one of its major manifesto promises, the PPP/C government is moving ahead with plans to reopen the East Demerara, Rose Hall and Skeldon estates.  As part of this process, there have been visits to the various estates by the new Minister of Agriculture, Zulfikar Mustapha and officials of the government holding company, the National Industrial and Commercial Investments Limited.
The hasty closure of these estates in addition to the one at Wales and the callous retrenching of 7,000 workers will remain one of the major blunders of the APNU+AFC administration. It was not as if  APNU+AFC should not have taken steps to rationalise the sugar industry. There were clearly good grounds to make a critical examination of the industry and embark on consolidation and transformation considering the vast losses that were being registered and the bailouts this required.  Continue reading →
------------------
Stop Sign Extreme Heat Warning – Death Valley – California – USA
t is hot here in California. On August 16th, a heat wave sent temperatures soaring in Death Valley to 130℉ (54.4℃), believed to be the highest temperature recorded on Earth in over a century. With a historic wildfire season threatening life and property, Governor Gavin Newson has declared a state of emergency. On August 24th, as reported by Cal Fire, the state has had 7,002 fires this year, burning over 1.4 million acres…and growing. At the same time last year, 4,292 fires had burned 56,000 acres.
READ MORE: http://rosalienebacchus.blog/2020/08/30/climate-crisis-update-reasons-for-hope-in-2020/
----------------------------
FREE BOOK: from C Aubrey McWatt.I have provided access to my book, 'Poetry and Painting – Creating Connections', at no cost to the public. Feel free to circulate in your FB group and also to whomever you may wish personally. The link below takes you to the book. Click to turn pages for review of full 238 page content..https://www.blurb.com/books/7447077-poetry-and-painting?fbclid=IwAR1FC1b0SHLDH6966Pry_37tl4OmUx3LcqGkMzXVyvXTI83r75g2WT0ATIg.C. Aubrey McWatt
267-885-3422
amcwatt2@gmail.com            www.mcwattfineart.net
------------------------
The attacks of 9/11 shocked the nation—and led to changes that altered U.S. government, travel and culture.DAVE ROOS – history.com
September 11, 2001 is an inflection point—there was life before the terrorist attacks and there is life after them. Nearly 3,000 Americans were killed on that clear, sunny morning when two hijacked airplanes crashed into the World Trade Center towers in New York City, another plowed into the Pentagon and a fourth was brought down in a crash on a Pennsylvania field by heroic passengers who fought back against terrorists.
"This was an attack unprecedented in the annals of terrorism in terms of its scale," says Brian Michael Jenkins, a senior advisor to the president of the RAND Corporation and author of numerous reports and books on terrorism, including Will Terrorists Go Nuclear?. "It was the largest attack by any foreign entity on U.S. soil."
READ MORE: https://www.history.com/news/september-11-changes-america
---
Guyanese Online |   Published by Cyril Bryan - cybryan@gmail.com
This email was sent to

|

Unsubscribe

|

Forward this email to a friend