Yehuda Lave is an author, journalist, psychologist, rabbi, spiritual teacher, and coach, with degrees in business, psychology and Jewish Law. He works with people from all walks of life and helps them in their search for greater happiness, meaning, business advice on saving money, and spiritual engagement.
Love Yehuda Lave
Join my blog by sending me an email to YehudaLave@gmail.com
Everything you need to know about Israel's green passport program
Gyms, theaters, hotels, concerts, and synagogues registered under the green passport program will be able to operate.
The country is expected to further return to routine on Sunday and to facilitate this, the Health Ministry will roll out its "green passport" program.
A green passport will be required to enter certain places and to participate in certain activities. Only people who have been vaccinated or have recovered from coronavirus will be eligible for one.
As part of the program, registered gyms, theaters, hotels, concerts and synagogues will be able to operate starting next week.
"We are giving a huge line to vaccinators," Health Minister Yuli Edelstein said on Thursday during an extensive briefing. "This is the first step back to an almost normal life."
Edelstein added that soon there will be places of work that will have to require their staff be vaccinated or else undergo a coronavirus test every 48 hours.
The green passport is granted to those who are a week past the second coronavirus vaccination, or to the around 740,000 people recovered from the virus who currently are not eligible for the vaccine.
Rona Kaiser, vice president of information technologies for the Health Ministry explained in detail how people can access their green passports. Here's what you need to know:
Where can I get my green passport?
The passport can be downloaded via the traffic-light smartphone application, the Health Ministry's traffic-light website, or via the ministry call center (*5400).
How do I use the app?
Download the app to your Apple or Android phone. Update your personal details, including personal ID number, or passport number, phone number and birth date. Confirm that the information is correct and a code will be sent to your phone. Input the code to confirm. The application will verify for your staff and present you with an animated green passport.
And what about through the website?
On the website, update your personal details and you will be issued with a printable green passport certificate that includes a scannable QR code.
"Unlike the vaccinated and recovering card, this is a high-security code with a digital signature," Kaiser explained. "We have consulted with quite a few information security consultants to issue a secure green passport."
People who call the hotline can have the passport sent to them via email, text or even snail mail.
How will establishments check if I am allowed to enter?
When you arrive at a store or other places of business, you will be asked to present your green passport. The printout can be presented for scanning, or the app can be opened and the digital confirmation presented. You will be asked to present your ID card, too.
Business owners can scan the QR code on your certificate via the application, but not using other standard scanning apps.
Can I get a green passport anywhere else?
As of now, green passports are only issued by the Health Ministry and not through health funds, or any other medical institutions or personnel.
For how long is the green passport valid?
The green passport will be valid for six months from one week after the second dose.
Can children get a green passport?
Children who have recovered from coronavirus can receive a green passport and enter the same places as their parents without being tested. Their passport will appear on their parents' passport.
Edelstein clarified on Thursday that there is not and there will not be an obligation to vaccinate in Israel.
"Whoever chooses not to be vaccinated has his right," Edelstein said. "There will also be no personal sanctions against someone who is not vaccinated. It should be understood that getting vaccinated is a great privilege that has been given to us, something that many countries in the world have not attained."
The minister added that there will be some areas that will be open to everyone, even for citizens who have not been vaccinated, and that the possibility that these areas will be expanded depends on the rate of immunization of the entire population.
Additionally, Head of Public Services Dr. Sharon Alroy-Preis said that children will also be able to enter various stores, and that they will be able to accompany their parents to hotels if they undergo a coronavirus test.
People who try to forge a green passport will face criminal charges and may even be jailed, he warned.
"Anyone who thinks it is a child's game and will print a certificate even though he has not been vaccinated will eventually be caught and this activity could also end with a jail term," Edelstein said.
Health Ministry Director-General Chezy Levy said he held a meeting with senior police officials on Thursday about "enforcement and uncompromising punishment against the issuers of forged green passports – the users and the forgers."
More activities and establishments are expected to open under the same model in the coming weeks.
"You should get vaccinated now," Edelstein warned, because it takes about four weeks to reach maximum immunity and receive your green passport. "It is our duty to take care of the health of all Israel's citizens, and we will not compromise on that."

The Three Musketeers at the Kotel
Common asthma drug can reduce COVID hospitalizations by 90% — study
Oxford University researchers say steroid budesonide, inhaled as a treatment for respiratory disorders, effective when administered to patients within a week of first symptoms

By TOI staff and AFP s

A common asthma drug can dramatically reduce hospitalizations, symptoms and recovery time among COVID-19 patients if taken up to a week after the appearance of symptoms, Oxford University researchers said.

Inhaling the steroid budesonide reduced by 90 percent the need for urgent care or hospitalization, when compared with the use of the usual treatment for virus patients, the Reuters news agency reported Tuesday, citing the Oxford experts.

Initial results, reached after a 28-day study of 146 patients, showed volunteers recovered more quickly from fever and had less persistent symptoms when treated with the steroid.

Budesonide is sold as Pulmicort by AstraZeneca, which together with Oxford University has also produced a vaccine against the coronavirus.

"I am heartened that a relatively safe, widely available, and well-studied medicine… could have an impact on the pressures we are experiencing during the pandemic," said researcher Mona Bafadhel.

Researchers were drawn to take a closer look at the drug after noticing how few patients with chronic respiratory disease were among those hospitalized with COVID-19 in the early days of the pandemic. People suffering from respiratory disorders are often prescribed inhaled steroids as a treatment.

The results of the Oxford University research have not yet been published in a peer-reviewed journal.

On Thursday AstraZeneca published figures showing its net profits more than doubled last year to $3.2 billion on strong sales of new cancer drugs.

The update did not include any current or projected earnings from AstraZeneca's coronavirus vaccine, which is being rolled out worldwide.

However, the company said "the largest direct impacts of COVID-19 on the company's portfolio" included reduced sales of respiratory drug Pulmicort in China and less use globally of infused and injectable medicines such as Imfinzi and Fasenra.
Will the Truth on COVID Restrictions Really Prevail? by Scott W. Atlas

The consequences of the SARS2 coronavirus pandemic and its management have been enormous. Over 400,000 American deaths have been attributed to the virus; more will certainly follow. Even after almost a year, the pandemic still paralyzes our country. Despite all efforts, there has been an undeniable failure to stop cases from rapidly escalating and preventing hospitalizations and death.

Here's the reality — almost all states and major cities, with a a handful of exceptions, have implemented severe restrictions for many months, including closures of businesses and in-person school, mobility restrictions and curfews, quarantines, limits on group gatherings, and mask mandates dating back to at least the summer. These measures did not significantly change the typical pattern or damage from the SARS2 virus. President Biden openly admitted as much in his speech to the nation on Jan. 22, when he said "there is nothing we can do to change the trajectory of the pandemic in the next several months." Instead of rethinking the results of implemented policies, many want to blame those who opposed lockdowns and mandates for the failure of the very lockdowns and mandates that were widely implemented.

Ironically, all new policies will coincide with a decrease in cases, because that decrease is already evident across the United States. Hospitalizations in every age group, by CDC data, as well as deaths, have begun to decline. Confirming that trend is the marked drop in symptomatic COVID-19 patients coming to emergency rooms, down 40% from its peak almost a month ago to become lower than that seen before Thanksgiving. Despite that reality, is there any doubt how most of the American media will portray this in their analysis of the administration's "First 100 Days"?

And let's be clear about behavior — social mobility tracking of Americans and data from Gallup, YouGov, the COVID-19 Consortium, and the CDC have shown significant reductions of movement as well as a consistently high percentage of mask-wearing since the late summer similar to Western European countries and approaching that in Asia.

America has an internal comparison. Florida, a large, diverse, highly populated state, stands out as having one of the highest percentages of vulnerable elderly in the entire nation, one of only two states with more than 20% over 65 years of age. Florida widely opened schools and businesses months ago, discarded most mobility restrictions, and ended mandates. Florida did not eliminate cases, hospitalizations, or deaths, but Florida has outperformed many states during the recent surge, including those with warm climates, like California, that implemented longstanding lockdowns. Florida's deaths per capita has also beaten half the country as well as the national average. Even if Floridians on their own behaved similarly to people under mandates, why is that not a subject of open discussion and highlighted by the media?

Separate from their limited value in containing the virus — efficacy that has often been "grossly exaggerated" in published papers — lockdown policies have been extraordinarily harmful. The harms to children of closing in-person schooling are dramatic, including poor learning, school dropouts, social isolation, and suicidal ideation, most of which are far worse for lower-income groups. A recent study confirms that up to 78% of cancers were never detected due to missed screening over three months. If one extrapolates to the entire country, where about 150,000 new cancers are diagnosed per month, three-fourths to over a million new cases over nine months will have gone undetected. That health disaster adds to missed critical surgeries, delayed presentations of pediatric illnesses, heart attack and stroke patients too afraid to call emergency services, and others all well documented.

Beyond hospital care, CDC reported four-fold increases in depression, three-fold increases in anxiety symptoms, and a doubling of suicidal ideation, particularly among young adults after the first few months of lockdowns, echoing the AMA reports of drug overdoses and suicides. Domestic abuse and child abuse have been skyrocketing due to the isolation and specifically to the loss of jobs, particularly in the strictest lockdowns. Given that many in-person schools have been closed, hundreds of thousands of abuse cases are never reported, since schools are the number one agency where abuse is noticed. Finally, the unemployment "shock" from lockdowns, according to a new NBER study, will generate a 3% increase in mortality rate and a 0.5% drop in life expectancy over the next 15 years, disproportionately affecting African Americans and women. That translates into what they called a "staggering" 890,000 additional U.S. deaths from the lockdowns.

We know we have not yet seen the full extent of the damage from lockdowns, because it will last for decades. Perhaps that is why lockdowns were not recommended in previous pandemic analyses, even for infections with far higher death rates.

To determine the best path forward, shouldn't policymakers objectively consider both the data and the totality of the impact of policies to date? That's the importance of health policy experts with a the broader scope of expertise than that of epidemiologists and basic scientists. That necessarily means admitting those social lockdowns and significant restrictions on individuals are deadly and extraordinarily harmful, especially on the working class and poor.

Optimistically, we are seeing the light at the end of the long tunnel with the rollout of vaccines, now at 1.5 million per day. On the other hand, using the logic that would put "Alice in Wonderland's" Mad Hatter to shame, the new vaccines have been more frequently administered first to healthier, younger people instead of those at risk to die. Few states at the time of this writing have administered most of their vaccinations to people over 65; many have given more than 80% to low-risk age groups. And why is the fact that tens of millions already have biological protection after being infected with the virus — so they should not be immediate priorities — not even acknowledged?

Just as in Galileo's time, another problem is the "vested academic interests." Many universities have overtly intimidated views contrary to their own, seemingly for political motives, leaving many afraid to speak up. Perhaps university mottos like Harvard's "truth," Stanford's "the winds of freedom blow," and Yale's "light and truth" need revision. Social media has piled on with a heavy hand to eliminate discussion of conflicting evidence. Without permitting, indeed encouraging, open debate and admission of errors, we might never solve any future crisis.

America is now a country where differing interpretations of science in order to seek the truth is the new anathema. I fear that "the science" has been seriously damaged, and many have simply become fatigued by the arguments. That is even worse, because fatigue will allow fallacy to triumph over truth. Perhaps Harvard Medical School Professor Martin Kulldorff was correct when he lamented, "After 300 years, the Age of Enlightenment has ended."

Scott W. Atlas<figure>
</figure>

Scott W. Atlas, MD, is the Robert Wesson Senior Fellow at Stanford University's Hoover Institution and a member of Hoover Institution's Working Group on Health Care Policy. He investigates the impact of government and the private sector on access, quality, pricing, and innovation in health care, and he is a policy adviser to government leaders in those areas. Dr. Atlas advises entrepreneurs and companies in the life sciences, medical technology, and health information technology sectors.

Dr. Atlas received a BS degree in biology from the University of Illinois in Urbana-Champaign and an MD degree from the University of Chicago's School of Medicine.
Man: The Pinnacle of Creation? Yeshiva-lite with Dr Ephraim Greenfield
Noted physicist Dr Ephraim Greenfield presents major findings across
multiple scientific disciplines from cosmology to cell biology and shows
us where we can find the hand of God in all of them.
"The world says, 'Time is money.' I say, 'Time is life.' "

— Rabbi Menachem Mendel Schneerson, the Lubavitcher Rebbe, to the father of Rabbi YY Jacobson, Gershon Jacobson, in 1985

Recently, I lost a very special person in my life, a woman who taught me the immeasurable value of every moment. I met Julia when I was 6 and she was 12 back in the former Soviet Union.

Julia

Throughout the process, Julia was fighting cancer

was not born Jewish, but she made a conscious decision to convert. This commitment was particularly inspiring and challenging because throughout the process of conversion, Julia was fighting cancer. But neither weakness nor pain deterred her from her lifelong goal to join the Jewish people. At one point, Julia made a decision to postpone chemotherapy in order to travel to Israel, a dream she knew she needed to fulfill. Together with her husband, she visited Jerusalem, the holiest place for the Jewish people, and became forever connected to our Land of Israel.

Both Julia and I were born in a city called Saratov on the Volga River. Growing up under the Communist regime, it was almost impossible to learn about any religious traditions and values. In 1987, Julia's family immigrated to the United States, and in 1989, my family was welcomed by Julia's family in America. After arriving in the United States, I started my own journey of reconnecting to my Jewish heritage. I have met many special people along the way, yet I have never known anyone so committed to the Jewish values and traditions.

Together with her husband, Leonid, who was born Jewish, Julia attended the Lubavitch Center for Russian Jewry for services and holiday celebrations. Rabbi Sholom Goldshmid spent countless hours teaching Torah ideas to her. Rebbetzin Malky Goldshmid and Julia became close friends. During Julia's illness, Leonid often visited the Ohel in Queens, N.Y., the resting place of the Lubavitcher Rebbe, reading the entire book of Psalms for his wife. Julia felt an incredible connection to the Rebbe and read many of his teachings.

Julia's diagnosis didn't discourage her from studying Torah, as well as learning and observing Jewish customs. She believed that each day offers an opportunity to get closer to G‑d, family and friends.

"Her faith in G‑d was total," says Malky. "When she decided to convert to Judaism, she only looked forward. She had an absolute reliance on G‑d that whatever He does is for the good. As she said to the rabbi: 'If G‑d has decided to take me at this time, I want to go as a Jew.' "

Any prognosis was irrelevant to her mission because she accepted one moment at a time and used it to bring light to the world. She was an exceptional mother who offered her two boys unconditional love and acceptance. When someone was impatient with another person, she simply said, "Everyone is different," and reminded them to treat people with respect and dignity.

Right before the pandemic, in February of 2020, Julia passed her conversion exam, walked into the waters of the mikvah and emerged with a new name, Chava Chaya.

Chava Chaya met each milestone of the Jewish year with zest, commitment and joy. She celebrated all of the Jewish holidays except one; she passed away a few days before Chanukah. I was so broken that Chava Chaya didn't get a chance to light the menorah and to experience this last holiday.

Then

Her life itself was a light

I realized that perhaps she didn't live long enough to light the physical candles because her life itself was a light for the Jewish people.

How beautiful it is to know that there are people in this world who are so dedicated to our heritage and faith that no obstacles can stand in their way. This was the story of my friend, Chava Chaya, who was a shining example of faith, goodness and love. She wanted nothing more than to live as a Jew. While she accomplished her dream to convert and kept the commandments for just nine months, she felt fulfilled knowing that she was leaving this world as a proud Jewish woman.

May the memory of Chava Chaya bat Abraham be a blessing to the Jewish people.



<figure>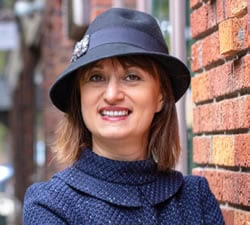 </figure> By Sofya Sara Esther Tamarkin More by this author
Born in the Soviet Union, Sofya Sara Esther lives in Philadelphia, runs an orthopedic company, and holds an MBA degree. She teaches Torah, travels the world, and is involved with RAJE (Russian American Jewish Experience) and other outreach organizations. Email Sofyafor questions about self-growth and achieving life purpose. Art by Sefira Ross, a freelance designer and illustrator whose original creations grace many Chabad.org pages.
See you tomorrow bli neder
We need Moshiach now!
Love Yehuda Lave
Yehuda Lave, Spirtiual Advisor and Counselor
Jerusalem, Jerusalem
Israel