Entries for 29 June 2020
India's film-makers accused of hypocrisy for supporting Black Lives Matter while keeping silent on bias for fair complexions
Alia Waheed – June 28, 2020 – The Guardian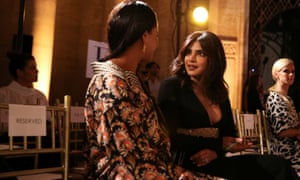 Priyanka Chopra at New York fashion week last year. Photograph: Caitlin Ochs/Reuters
The Bollywood film industry is a global phenomenon built on glitz and glamour. But it has also faced accusations of being among the biggest purveyors of racism for glorifying fair complexions in its hyperbolic love stories and catchy songs. Now, amid anger over what some consider Bollywood's hypocritical stance on Black Lives Matter, the industry has finally been forced to confront one of its most enduring taboos.        
Bollywood has witnessed considerable liberalisation in recent years. But while taboos such as same-sex relationships have been relegated to a past in which stars hid behind a rose bush to steal a kiss, the industry's determination to cling to colourism – prejudice against people of your own race on the basis of skin colour – has become a cause of anger and dismay.          Continue reading →
---
You can access it here: https://ilas.sas.ac.uk/publications/memory-migration-and-decolonisation-caribbean-and-beyond
Please do promote far and wide…. Open the Link & it's FREE to download on PDF
Memory, Migration and (De)Colonisation in the Caribbean and BeyondEdited by Jack Webb, Rod Westmaas, Maria del Pilar Kaladeen, and William Tantam18 February 2020
In recent years, academics, policy makers and media outlets have increasingly recognised the importance of Caribbean migrations and migrants to the histories and cultures of countries across the Northern Atlantic.
At the heart of this book are the voices of Caribbean migrants themselves, whose critical reflections on their experiences of migration and decolonisation are interwoven with the essays of academics and activists.            Continue reading →
--
 Jun 28, 2020  News
                                  A sign at the airport, in the baggage retrieval area.
In preparation for the phased reopening of the international airports, the Guyana Civil Aviation Authority (GCAA) teamed up with the Ministry of Public Health (MoPH) to ensure that the airport is up to par with the guidelines to protect passengers against the spread of COVID -19.
A team from the MoPH, the GCAA and Immigration conducted a walk through and site visit at the CJIA on Friday to have a firsthand view of the COVID-19 measures that have been put in place ahead of the proposed July 1 reopening.      Continue reading →
----
Guyana among countries to be allowed under strict criteria to enter EU
 Jun 28, 2020  News
European Union -The ambassadors of the European Union (EU) member states have agreed on strict criteria by which they will remove entry restrictions, DPA agency reports. The decision was made according to epidemiological criteria.

There are two lists, one for those that will be accepted, and one for those who will not.
The list has already aroused controversy after sources revealed that the United States – the worst-affected country worldwide by COVID-19 with more than 2.4 million cases, is on the following list.    Continue reading →
-------------------------------------------------------------------------------------------------------------------------
Guyanese Online | Published by Cyril Bryan -- cybryan@gmail.com
This email was sent to | Unsubscribe | Forward this email to a friend