Entries for 02 August 2020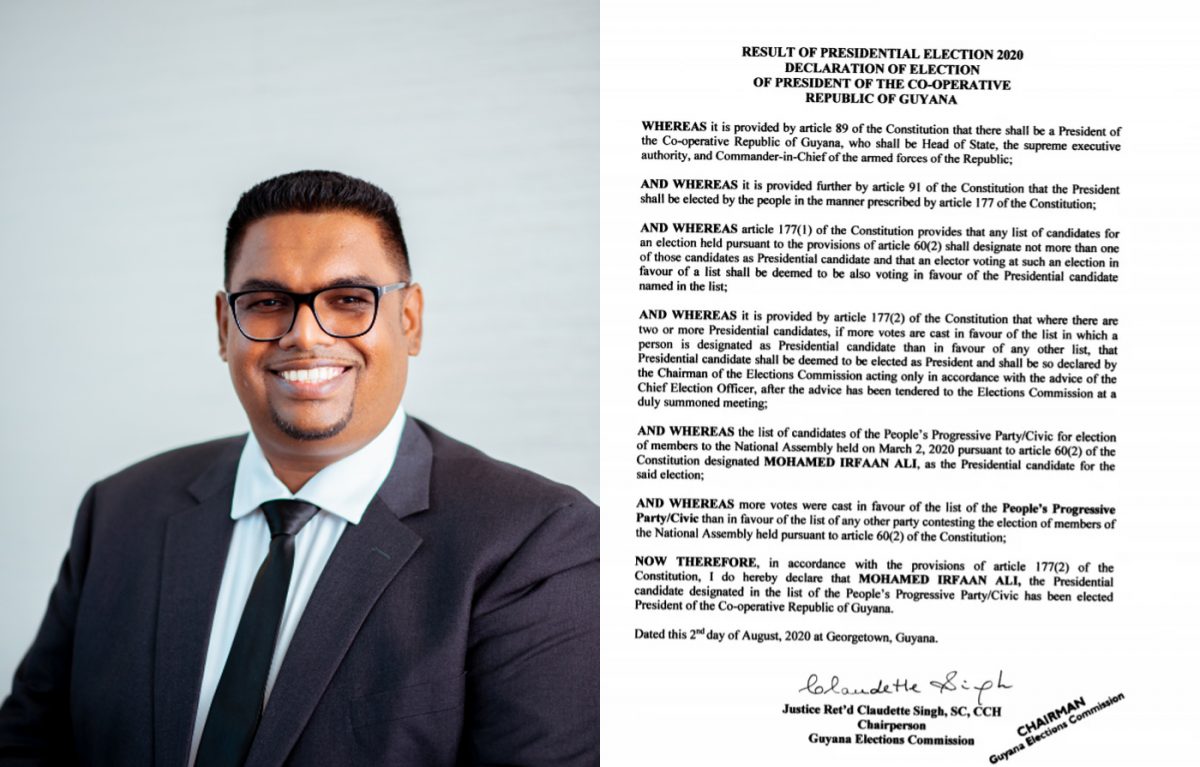 By Stabroek News –  August 2, 2020
Mohamed Irfaan Ali was today declared the 9th Executive President of Guyana by GECOM Chairperson, Claudette Singh.
The announcement came this afternoon after Chief Election Officer Keith Lowenfield submitted the results of the March 2nd general elections using the recount figure which shows a victory for the PPP/C.        Continue reading →
---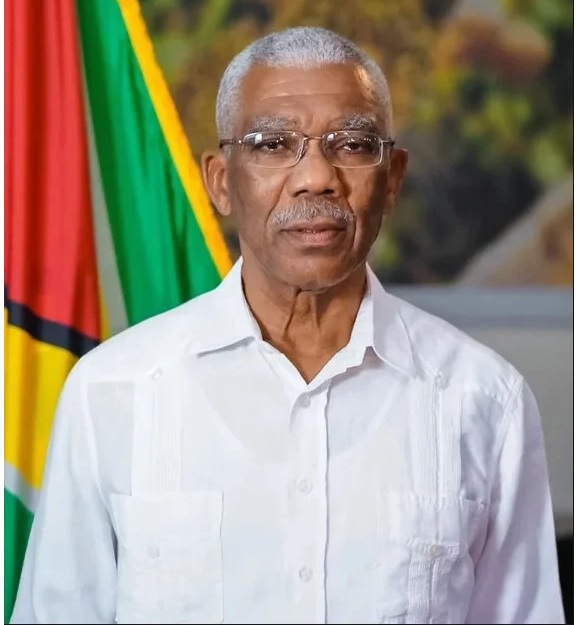 David GrangerBy Staff Editor- August 2, 2020
President David Granger today signalled that an election petition will be filed, a likely sign that APNU+AFC has accepted that GECOM's declaration will be the result recount which shows a win for the PPP/C.
A statement from the Ministry of the Presidency follows:    Continue reading →
---
Demerara Waves – by: Denis Chabrol –August 2, 2020
President David Granger and Opposition Leader Bharrat Jagdeo will not be holding any talks on "the way forward" before the Guyana Elections Commission (GECOM) declares the results of the March 2, 2020 general elections, Jagdeo said.
GECOM is expected to meet again  at 2 PM Sunday.
Pro-APNU+AFC Elections Commissioner, Charles Corbin said he and his two other colleagues-Vincent Alexander and Desmond Trotman- told Sunday morning's meeting of the Commission that "utilising that information (from the national vote recount) can cause a lot of ripples in the society" although GECOM has the power to use those numbers. 
---
IAN AUSTEN | NEW YORK TIMES 
Canadians don't have to go back to 1918 and the start of the Spanish flu pandemic to find an analogy to today. For decades, waves of polio outbreaks gripped the country with fear, death and uncertainty, as recently as the 1950s.
At times, the outbreaks caused Canada to limit travel from the United States. Special hospitals were set up in some provinces to help children paralyzed by polio when physiotherapy was established. The iron lung began appearing in hospitals to assist patients' breathing. School openings were delayed in many communities in a bid to reduce polio's spread.
Ultimately, about 50,000 Canadian children were infected with polio during four major epidemics, and 4,000 of them died.          Continue reading →
---
Barbados — Connects with Ancestral Home in Ghana and Africa
By Stabroek News  August 1, 2020     
Minister of Tourism Senator Lisa Cummins (third right) exchanging an elbow bump greeting with one of the Ghanaian nurses yesterday at Grantley Adams International Airport. On Cummins' right is Minister of Health Jeffrey Bostic and on her left is Permanent Secretary in the Ministry of Health, Janet Phillips. At right is executive chairman of the Queen Elizabeth Hospital, Juliette Bynoe-Sutherland. (Picture by Reco Moore.)
---
People's National Movement (PNM) vs United National Congress (UNC)
Campaigning in Trinidad for the Aug. 10 general elections is heating up with analysts warning that voting almost strictly along racial lines could well determine, which party runs the oil and gas-rich twin-island republic with Tobago for the next five years.
Top executives from both of the major parties — the governing People's National Movement (PNM) and the main opposition United National Congress (UNC) have publicly traded serious political, race-sensitive barbs in recent days with UNC leader and former prime minister, Kamla Persad-Bissessar being accused of openly appealing to Indo Trinidadians when she referred to Prime Minister, Keith Rowley as a "blank man" on the campaign trail.     Continue reading →
---
https://www.facebook.com/pickeringevents/videos/341216743549376
Destination Pickering welcomes:         Tune in to watch live
Bing Serrão & the Ramblers, this Sunday Aug 2 @ 2:00 PM!
The story of the Ramblers goes back to around 1950 in Georgetown, British Guiana when the last three siblings of the Serrão family started playing with make-believe guitars, made of empty herring cans with a wooden pole protruding, and four rubber bands with wooden heads to "tune" the guitar. In 1953, the Serrão brothers formally started the band.          Continue reading →
---
Guyanese Online |   Published by Cyril G. Bryan - cybryan@gmail.com
This email was sent to

|

Unsubscribe

|

Forward this email to a friend