Entries for 31 August 2020
By Stabroek News – August 29, 2020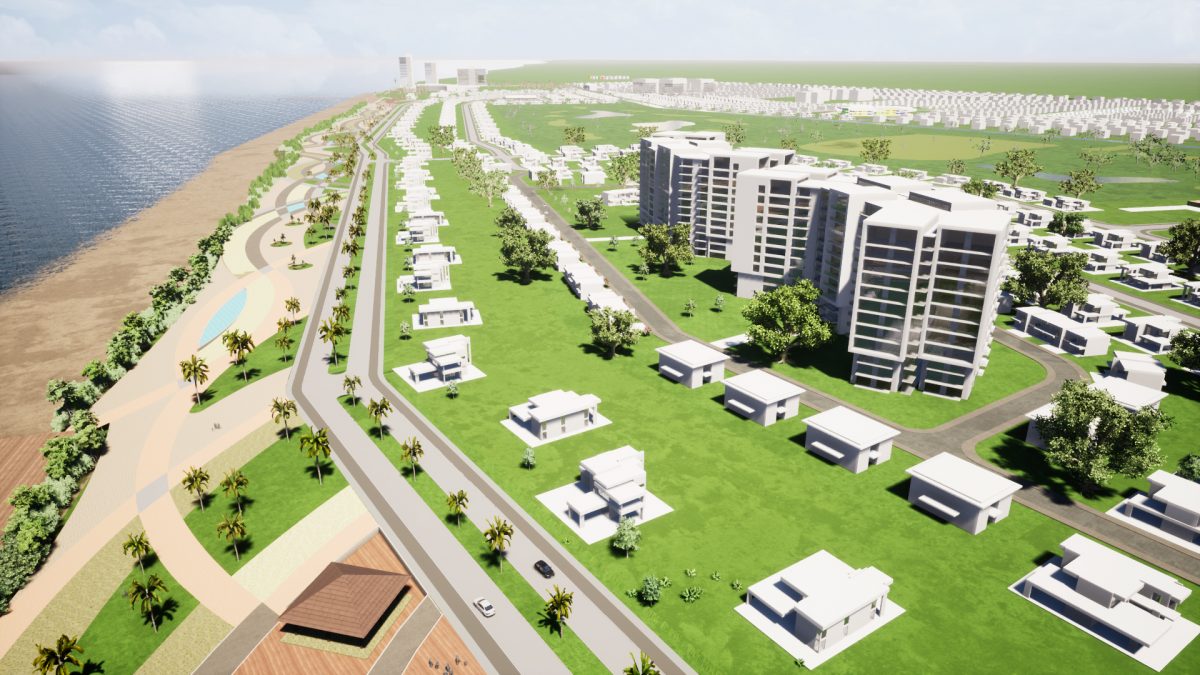 An artist's conception of what the development will look like
If all goes according to plan, Guyana will see the development of a US$1.4 billion real estate project along the Mahaica River in anticipation of expatriate and remigrant demand based on the country's soon-to-be-realised oil wealth..
In a press release yesterday, Construction and Investment Management Group (CIMGRO), headed by two Guyanese businessmen, Ragindra  Persaud (www.nandpersaud.com) and Sudama Ramalingum of New Trend Auto announced that construction would begin on the Maraiko Bay Golf & Country Club; the first of two Championship PGA-standard golf courses. This construction is being billed as Phase I of Maraiko Bay, a 1,000-plus-acre US$1.4B oceanfront megaproject.    Continue reading →-
----------
Posted by: Denis Chabrol in DEMERARA WAVES –August 30, 2020 
--
Left to right: Attorney-at-Law Darren Wade, Alliance For Change executive member David Patterson, incoming Opposition Leader Joseph Harmon and Attorney-at-Law Roysdale Forde outside the Sparendaam Police Station where Mr. Clairmont Mingo is being held.
A number of residents of Belladrum, West Coast Berbice on Sunday blocked the public road to vent their anger at the continued detention ad subsequent charging of Region Four Returning Officer Clairmont Mingo.   
Divisional Police Commander for  Mahaica-West Berbice, Edmond Cooper said he and a team of policemen were trying to clear the road without causing the situation to escalate.      Continue reading →
----------
An aerial view of Nassau, Bahamas
Aug 28, 2020 – CMC – and  https://caribbeanbusinessreport.com/
The International Labour Organization (ILO) is warning that almost half a million Caribbean tourism workers face the prospect of decent work deficits in the form of job losses, reductions in working hours, and loss of incomes, while the worsening of working conditions and the move to informal employment appear as a concrete possibility.          
In a new publication titled "Tourism sector in the English- and Dutch-speaking Caribbean: An overview and the impact of COVID-19 on growth and employment," the ILO describes as significant and far-reaching the reduction in the Caribbean tourism industry workforce due to the coronavirus (COVID-19) pandemic.
----------
Labour criticises 'unconscionable' plans as ministers would warn employees vulnerable to being sacked
Financial districts like London's Canary Wharf have become 'ghost towns' amid the pandemic. 
Press Association = Fri 28 Aug 2020  – THE GUARDIAN UK..Workers will be encouraged to return to the office as part of a major media campaign to be launched by the UK government.
The television and newspaper messages will promote the government's aim to reduce the number of employees working from home amid fears that town and city centres are becoming ghost areas as workers stay away.          
---
Guyanese Online | Published by Cyril Bryan - cybryan@gmail.com
This email was sent to

|

Unsubscribe

|

Forward this email to a frie

nd