Guyanese Online: Entries for 10 June 2020
Jun 10, 2020  KaieteurNews
The smaller-sized state-owned Guyana Sugar Corporation (GuySuCo) says it has no money and wants the Government to help.
According to the largest union for sugar workers, the Guyana Agricultural and General Workers Union (GAWU) yesterday, it has learnt that GuySuCo is facing the prospect of closure having exhausted its finances and was desperately requiring the support of the Government.        Continue reading →
-
Posted by: Demerara Waves in Elections, News, Politics June 9, 2020
Peter Wickham of CADRES
President David Granger's indecisive style rather than a bloated list appeared to have cost his incumbent  A Partnership for National Unity+Alliance For Change (APNU+AFC) the recent general elections, if the recount results are anything to go by, according to Political Scientist and Caribbean pollster, Peter Wickham.
Wickham, who heads the Caribbean Development Research Services (CADRES), believed that the coalition should have called the election shortly after the December, 2018 no-confidence motion instead of worrying unnecessarily about a bloated voters' list. He recalled that soon after the passage of that motion, a poll shown that the Granger-led administration had enjoyed a 2 percent advantage and should have called the election immediately.        Continue reading →
-
Adrian Horton – The Guardian – Tue 9 Jun 2020 17.27 BST
Late-night hosts assess the significant impact of nationwide protests against police brutality and systemic racism in less than two weeks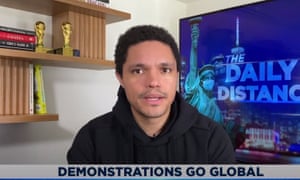 Trevor Noah: 'Well, you know what? I hope those people are hungry, because they're going to be eating their words.' Photograph: YouTubeTrevor Noah
After two weeks off, Trevor Noah returned to the Daily Show on Monday night and addressed the protests against anti-black racism and police brutality which have erupted nationwide after the police killings of George Floyd and Breonna Taylor. The movement has spread across the world; as a protester in London told American news: "We'll keep fighting the same fight that you are."    Continue reading →
-
 Tuesday, June 09, 2020 – by Common Dreams  'Who Does This Protect?' 
"Medics over there. News crews. Random people that were just here to protest and—tires slashed." 
An officer dressed in a military uniform punctures the tires of a car on May 31, 2020 in Minneapolis. (Photo: Global News/Screengrab)
Minnesota authorities on Monday admitted that state patrol troopers and Minneapolis police officers slashed the tires of dozens of parked cars late last month during protests over the killing of George Floyd, leaving demonstrators, medics, and journalists stranded.
The Minnesota Department of Public Safety confirmed that the tactic was used after videos posted to social media showed officers dressed in military uniforms using knives to puncture the tires of idle vehicles as protests against police brutality and racial injustice erupted across Minneapolis.
---
Guyanese Online | Published by Cyril Bryan -- cybryan@gmail.com
This email was sent to

|

Unsubscribe

|

Forward this email to a friend