ENTRIES FOR 29 NOVEMBER 2020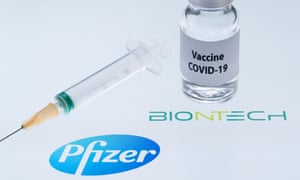 Exclusive: NHS could receive first deliveries of Pfizer/BioNTech vaccine as soon as 7 December
'
The nature of the Pfizer/BioNTech vaccine appears to have forced a rethink of who will get it first, with NHS workers expected to be front of the queue. Photograph: Joel Saget/AFP/Getty Images
Hospitals have been told to prepare for the rollout of a coronavirus vaccine in as little as 10 days' time, with NHS workers expected to be at the front of the queue, the Guardian has learned.     
------------------------------------
 — By: Dhanpaul Narine
If, from the public steps, you make your way onto Liberty Avenue and Lefferts Boulevard, you might ask, "You will realize that there is nowhere is the sign that says Little Guyana?"  sign, and there are good reasons for it. Guyanese are politically sleepy. Most of them are interested in Guyana affairs, rather than in local politics. How many can name their congressman or senators in Washington?
Guyanese children form a large percentage of the school population in Richmond Hill, but only a handful of parents bother to attend the open school meetings. They patronize other business, rather than their own, and don't get them started about Jagan and Burnham!
------------------------------
– By Francis Quamina Farrier
There are quite a number of places and things, many public property here in Guyana, which are waiting to be given a proper name or a change of name. Way back in colonial British Guiana, for example, a small portion of the Potaro river downstream from the Kaieteur Falls, was christened "Garraway stream." It was so named to the honour of the popular Berbice-born cricketer of the day, Patrick Garraway. At that point of the Potaro where the river is sort of flowing serenely after tumbling 741 feet over the Kaieteur's lip, there is a bridge over peaceful waters.      
---------------------------
By Yvonne Sam
— Sadly men of the cloth are not behaving as they ought.
Has the church lost its influence? Has it become weaker? Are the pastors hiding?
A shroud of darkness has enveloped the land, and I am yet to see the pastors make a historical stand. In 2015, I wrote an article denouncing the rising rate of femicide in Guyana, and called on, not only the government, but also the church, to make efforts to ensure that we stamped out the seeming Guyanese curse — that of our men being responsible for putting our women in hearses 
-------------------------------
Also check out the RECIPES on Guyanese Online.. Here are some links:
1. Cuisine: Recipes for Some Guyanese delicacies for the Christmas season
2. RECIPES From Guyana and the Caribbean – From Guyana Outpost archive
3.  Guyana Recipes by Zorinaspice – 43 videos – autoplay
---
Guyanese Online |  Published by Cyril G. Bryan - cybryan@gmail.com
This email was sent to

|

Unsubscribe

|

Forward this email to a friend